×
remind me tomorrow
remind me next week
never remind me
Subscribe to the ANN Newsletter • Wake up every Sunday to a curated list of ANN's most interesting posts of the week.
read more
Interest

My Hero Academia Characters Show Off Their Avengers Fandom in Crossover Videos

posted on by April
The official website for the My Hero Academia anime announced a cross-promotional collaboration with Avengers: Infinity War on Thursday. The East-meets-West team-up arrives in time for the April 27 release of the Avengers: Infinity War film and start of My Hero Academia anime's third season last Saturday.
In addition to the joint trailer above, the collaboration includes six videos where the My Hero Academia characters are each charged with introducing a different Avenger. Opportunities to compare the characters are not lost.
Captain America & Izuku Midoriya
Izuku says he truly understands Captain America's feelings, as they both wanted to help others and later gained the power to do so. The number one thing he admires about Captain America is his unshakable sense of justice.

Iron Man & Katsuki Bakugo
Bakugo says Iron Man is an annoying old man who is rich in addition to being a genius, but he is seriously strong because has a powerful quirk in the palm of his hand (like Bakugo) and he can fly.

Black Widow & Ochaco Uraraka
Uraraka says the Black Window is calm and super strong, and although she may seem a bit scary, she also has a side to her that's caring toward her friends. Uraraka aspires to be a beautiful and strong female hero just like the Black Widow.

Doctor Strange & Tenya Iida
Iida says that, since Doctor Strange was in the position of saving lives as a doctor, he believes in not killing others. Iida says that is a heroic aspect that others should learn from and follow.

Thor & Shoto Todoroki
Todoroki compares Thor's lighting powers to his own powers over the forces of nature, fire and ice. He also mentions that Thor and his brother Loki are always fighting. Tenya mentions that Todoroki and Thor are similar in that they both have strong "hero" fathers.

Hulk & All Might
All Might says that Dr. Banner is the kindest member of the Avengers, but transforms into the Hulk when agitated. Although there were times when he would hurt those around him, he is able to control himself more little by little. Izuku notes that he is similar to All Might in how he is kind and can transform between two forms.
Fans can vote on their favorite combination in a Twitter campaign to win one of 20 Avengers: Infinity War and My Hero Academia poster sets. Twitter users interested in voting must be following @AVG_JP and @heroaca_anime, and use the hashtag #アベンジャーズ_ヒロアカヒーロー投票.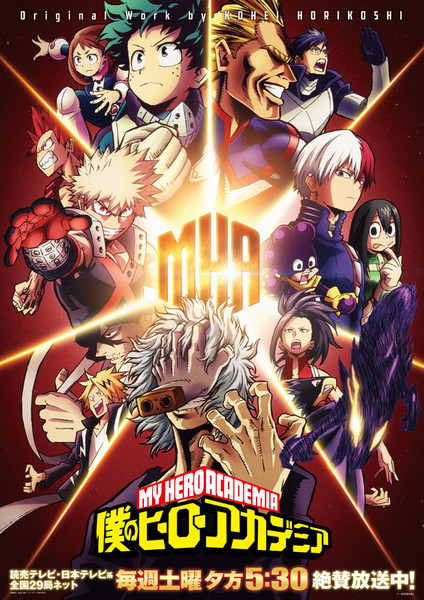 This is not My Hero Academia's first collaboration with a Western movie: original manga creator Kōhei Horikoshi also drew a poster for the latest Star Wars film.
---