Interest

Escape Room based on The Promised Neverland Breaks Free in March

posted on by Victor Chaves
Well-known escape room developers bring real scenarios to fans
---
An escape room based on the manga and soon-to-premiere anime The Promised Neverland is planned to open in five locations across Japan in March 2019.
The project is a partnership between the creators of The Promised Neverland (Kaiu Shirai and Posuka Demizu), and escape-room developers SCRAP (also known as "Real Escape Game") to create a themed escape room titled "False Paradise Escape". The scenario will be titled "Minerva's Pen of Solutions" based on the Grace Field House in the original work.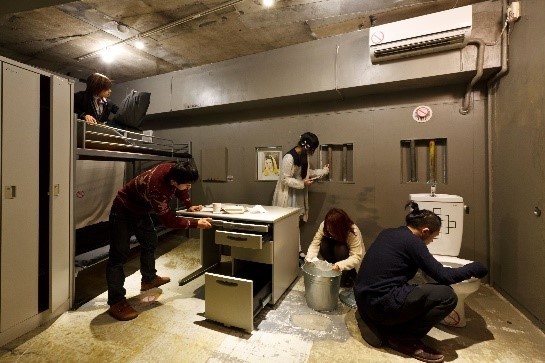 The SCRAP Fan Club and SCRAP Boy Detectives will be able to purchase tickets from January the 15, 2019 at 12:00 PM (JST) till January 20 at 11:59 PM (JST), while general public will have to wait until January 21. The tickets also require the purchase of the game's special item, the Minerva's Pen, which has the ability to project images.
According to SCRAP's Twitter account, there will be a present for participants, and anyone interested should check the official site for new details. In addition, according to the promotional video, the escape room challenge can accommodate 10 people, so bring your friends!
Plot Summary: Emma, Norman and Ray are the brightest kids at the Grace Field House orphanage. And under the care of the woman they refer to as "Mom," all the kids have enjoyed a comfortable life. Good food, clean clothes and the perfect environment to learn. One day, though, Emma and Norman uncover the dark truth of the outside world they are forbidden from seeing. (from manga)
The first season of The Promised Neverland anime will premiere on January 10. Aniplex USA will stream the series on Crunchyroll and Hulu. The story follows a group of orphans who make an escape for the outside world once they realize their orphanage is really a farm and they're the cattle for demons.
Source: SCRAP's official site
---