×
remind me tomorrow
remind me next week
never remind me
Subscribe to the ANN Newsletter • Wake up every Sunday to a curated list of ANN's most interesting posts of the week.
read more
News

Gundam 00's 4 Main Characters, 4 Gundam Units Revealed

posted on by Egan Loo
Gundam
plastic model convention to be held in August in Tokyo
---
Bandai revealed all four of the Gundam Meister pilots and their Gundam mobile suit robots in this October's Mobile Suit Gundam 00 science fiction series on June 14. The event at the Shinagawa Prince Hotel's Club eX in Tokyo also had basketball-player-sized statues of the four Gundams and prototypes of the upcoming plastic models. Bandai president Kazunori Ueno said that the animated characters will appeal "not only to the female fans acquired by the last series, Mobile Suit Gundam Seed Destiny, but also the male fans who like a hard [science-fiction] worldview."


The main lead is Setsuna F. Seiei, a 16-year-old from the Middle East's Kurdis Republic (an apparent wordplay on the Kurds) who keeps his thoughts hidden beneath a cool exterior. He pilots the GN-001 Gundam Exia, a mobile suit that owes its extraordinary maneuverability, stealthiness to conventional radar, and close-combat deadliness to the revolutionary GN drive and seven swords.


Setsuna's team leader is 24-year-old Lockon Stratos, who joined the Solestal Being private military organization because he lost his family due to terrorists. He pilots the GN-002 Gundam Dynames, which is reconfigurable per mission with a variety of guns (including a standard GN sniper rifle).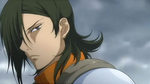 Allelujah Paptism (an apparent wordplay on baptism) is a seemingly calm, benign 19-year-old who grew up as an orphan in the Humanity Reform League, the league centering around China, Russia, and India, before joining Solestal Being. He pilots GN-003 Gundam Kyrios, the team's only fully transformable Gundam—it has a flight mode with reconfigurable weapon modules.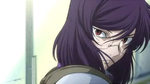 The final Gundam Meister pilot on the team is Tieria Arde, a bishōnen whose birthplace, nationality, and age are wrapped in mystery. Tieria pilots the GN-005 Gundam Virtue, the most heavily armed and armored Gundam of the four known ones. Its weapons include the GN Bazooka and GN Cannon, and its defenses include the GN Field barrier.
To promote the series and the franchise, Tokyo's Ikebukuro Sunshine City shopping complex will hold GunPla [Gundam Plastic Model] Expo Tokyo during August 11-16. The first episode will have advance previews via a screening caravan that will tour 28 locations in Japan in September.
Sources: Famitsu, Dengeki Online.COM
Images © Sotsu, Sunrise, MBS
---
follow-up of
Mobile Suit Gundam 00 Main Character, Staff Identified