×
remind me tomorrow
remind me next week
never remind me
Subscribe to the ANN Newsletter • Wake up every Sunday to a curated list of ANN's most interesting posts of the week.
read more
News

ADV Licenses Devil May Cry, Gurren Lagaan, Kyoshiro

posted on by Zac Bertschy
---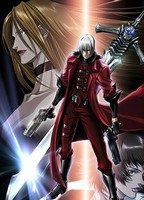 ADV's first announcement was Devil May Cry, based on the bestselling videogame published by CAPCOM.
The show follows Dante, a demon hunter whose services can be contracted through his business, "Devil May Cry". Dante himself is half-man, half-demon, giving him an edge in combat.
Animation for the show is being handled by Madhouse, famous for their work on Trigun and Card Captor Sakura; the series' director, Shin Itagaki, also handled directorial duties on Black Cat.
As of press time, the series is scheduled to run 12 episodes, although no official final episode count has been given. While no American release date has been set (and none was mentioned by ADV in the panel), it's reasonable to expect that the show will be released near the next installment in the million-selling game franchise, Devil May Cry 4, which also has no announced release date.
---

ADV's next announcement was Gainax's new giant robot series, Gurren Lagaan. The show – currently scheduled for 26 episodes – was described by the company:
In the distant future, humans have been forced underground by the evil Beastmen and their deadly mecha Gunmen. The surface world has become a distant memory for the survivors, who must burrow deeper and deeper into the Earth's core to find safety and sustenance. One day, Simon, the Jiiha village's top digger, discovers a giant metal face staring back at his drill. His discovery pays off when a squadron of Gunmen threatens to destroy the village, and the mysterious machine springs to life. Simon, along with his friends Kamina and Yoko, use this powerful new weapon to hunt down the Human Eradication Army of Beastmen and reclaim the surface world for mankind.
Gurren-Lagaan is directed by Hiroyuki Imaishi, who also directed the feature Dead Leaves. The series currently has no American release date.
---

The company's final announcement was Kyoshiro, a fantasy series from TNK, the studio behind Cosplay Complex and G-On Riders.
The show follows Kuu, a girl in the massive school of Academia, who dreams of one day finding her prince. When a new student, Kyoshiro, enrolls in her class, he bears an amazing resemblance to Kuu's fairy tale prince – but things aren't always as they seem.
No release date has been set as of press time.
---