News

Free 20th Century Boys Film Showing in San Francisco

posted on by Crystalyn Hodgkins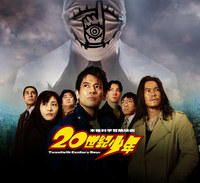 The New People cultural entertainment center, in conjunction with the San Francisco Bay Guardian newspaper, is hosting a VIP party in San Francisco on Thursday, December 17, with a free screening of the first movie in the live-action 20th Century Boys trilogy. Reservations must be made in advance to attend the VIP reception at either New People's website or the Guardian's website. Only the first 125 people who check in at the VIP reception will be able to attend the free screening.
The movie trilogy adapts Naoki Urasawa's suspense manga about a man who realizes that the calamaties cropping up around the world have eerie similarities to idle plans that he and his childhood friends made decades ago. The first film is currently running in New People's Viz Cinema theater until December 24.
The American premiere of the movie took place in January of this year at the Santa Barbara International Film Festival.
Viz Pictures, the live-action film affiliate of the North American manga publisher Viz Media, will release the first film on DVD tomorrow, followed by the second and third films next year. Viz Media is also publishing the sixth volume of the original manga in North America this month.
New People also co-hosted a similar party and private screening of the first live-action Death Note film with Red Bull last Thursday, December 10.
---