News

Rie Kugimiya's Fans Wait 25+ Days Outdoors in Taiwan (Updated)

posted on by Egan Loo
Avoid security patrols, stand in 10 °C nights for
Shana
/Tsukaima actress' signature
---

Not-So-Daily Link of the Day: Fans of voice actress Rie Kugimiya have been waiting in line on the streets of Taipei since before January 3 — more than 25 days before her scheduled appearance at the Taipei International Book Exhibition 2010. Kugimiya is famous for her tsundere (initially aloof and abrasive, but later kind-hearted) characters such as the title character in Shakugan no Shana, Louise (Zero no Tsukaima), Taiga (Tiger x Dragon), and Nagi (Hayate the Combat Butler).
To acquire Kugimiya's autograph at the exhibition, fans could either buy one of 50 NT$2,680 (US$85) Shana ceramic plate online, or line up at the convention hall for one of 100 more plates. The online plates sold out in just 30 seconds on December 30, as 80,000 order attempts almost brought the server offline. Fans then began lining up for the remaining 89 plates. (11 of the plates originally reserved for the line-waiters were reallocated for the online buyers, due to the overwhelming number of orders that came in simultaneously before pre-orders were stopped.)
Fans wanted to wait in line since New Year's Eve in front of Taipei 101 (the second tallest building in the world), but authorities discouraged line-waiting due to other events being held there. So, the fans regrouped and began lining up outside a nearby mall complex. As of January 13, the outside nighttime temperature was 10 °C (50 °F).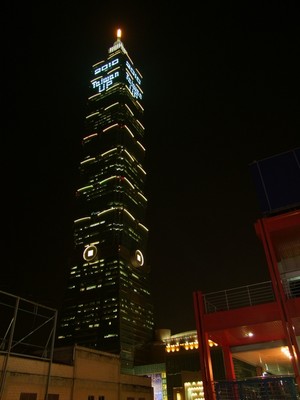 Three fans in line, who identified themselves as "Pony," "Zi Yu" (literally "violet melancholy"), and "Fire Inamitsu," agreed to be interviewed by ANN. All three came from the Taipei area, although there is another fan who is driving back and forth from 367 kilometers (229 miles) away to take shifts in the line. Pony has been in line since January 3, but there were actually people in line before he arrived. Due to the authorities' discouraging of overnight lines, the fans in line have been looking for different sleeping spots to avoid security patrols.
Pony and Fire were introduced to Kugimiya's work via Zero no Tsukaima (Fire has the autographs of the light novels' creators Noboru Yamaguchi and Eiji Usatsuka), while Zi Yu's part-time co-worker showed him Shana one day. Zi Yu said that he spent more than NT$220,000 (US$6,929) on Kugimiya merchandise in the first year he starting collecting, and he has now been a collector for three years. Fire acknowledged having all the Zero no Tsukaima novels, manga, anime, and Louise figures, while Zi Yu has every single Shana mug, the title character's uniforms and casual wear, and life-sized pillows. Pony collected the limited-edition Shana bed sheets and Kugimiya's moe bubble-wrap-popping keychain ("The tsundere version of course!").
Thanks to dormcat for the interviews.
Update: Here are the fans on Saturday morning, before it started raining. Thanks dormcat.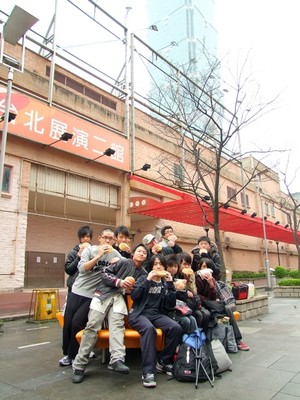 ---