News

Shonen Jump to Run 1-Shots by 6 'Legendary' Creators

posted on

2010-09-14

21:00 EDT by Egan Loo
---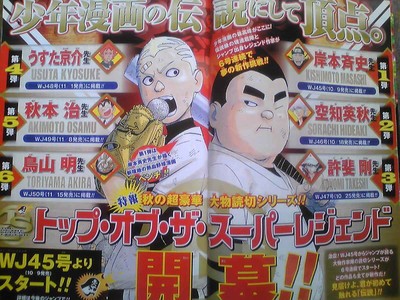 This year's 42nd issue of Shueisha's Weekly Shonen Jump magazine is announcing on Saturday that six "legendary" shonen manga creators will contribute one-shot manga, starting with the 45th issue on October 9. The "Top of the Super Legend" lineup are the following:
Issue 45 (10/9): Masashi Kishimoto (Naruto)
Issue 46 (10/18): Hideaki Sorachi (Gintama)
Issue 47 (10/25): Takeshi Konomi (The Prince of Tennis)
Issue 48 (11/1): Kyosuke Usuta (Pyu to Fuku! Jaguar)
Issue 49 (11/8): Osamu Akimoto (Kochira Katsushika-ku Kamearikouen-mae Hashutsujo)
Issue 50 (11/15): Akira Toriyama (Dragon Ball)
Kishimoto will draw "Bench!!," a "hot-blooded baseball manga."
[Via Kyō mo Yarareyaku]
---
discuss this in the forum (16 posts)
|
bookmark/share with:
this article has been modified since it was originally posted; see change history
RightStuf - Anime, Manga and More
The director and producer behind this nostalgic summer romance movie reflect on their experience making the film.
― Studio SHAFT's Fireworks, Should We See it from the Side or the Bottom? is a nostalgic film about teenage summer love, based on a classic TV drama. We sat down with director Nobuyuki Takeuchi and producer Genki Kawahara to discuss the film and its impact one year after its release. For ...
Our 2018 Gift Guide continues with an avalanche of this year's best, brightest and most feature-packed anime blurays and DVDs!
―
It's almost a holiday weekend - so let's talk about the wide world of unique and flavorful Japanese sodas!
― Jerry asked: Every time I see one of the famous Japanese drink vending machines in photographs or in anime, I usually see CocaCola and/or Pepsi, and maybe something else familiar like Mountain Dew, but I recognize almost nothing else. What kinds of sodas are available in Japan that aren't ava...
The final film in this trilogy from Polygon Pictures and Gen Urobuchi will be arriving on Netflix soon, but Richard Eisenbeis has our sneak peek at how the battle between Godzilla and Ghidorah will resolve!
― Following 2017's Godzilla: Planet of the Monsters and 2018's Godzilla: City on the Edge of Battle, Godzilla: The Planet Eater is the third and final film in the Godzilla anime trilogy. Penned by...
Big eyes, imposing stature and shimmering hair - the Dollfie line of ball-jointed dolls is iconic, and now the company is moving in to licensed characters, from Sailor Moon to Nier: Automata and Sword Art Online!
― Bright hair, pale complexions, tall physiques, and really big eyes – that's the first impression you get when you see a Volks doll in person. They've been fixtures at anime conventions in ...
Bloom Into You isn't your typical yuri romance. Nick and Steve explore what makes this unconventional love story so special.
― Bloom Into You isn't your typical yuri romance. This week, Nick and Steve explore what makes this unconventional love story so special. Disclaimer: The views and opinions expressed by the participants in this chatlog are not the views of Anime News Network. Spoiler Warning f...
Pokémon fans can explore the Kanto region like never before in this high-def remake of the classic Yellow Version, but has Generation 1 aged gracefully? Branden Johnson finds out.
― I missed the Pokemon train entirely the first time around. It's strange; I love JRPGs, and I was the perfect age when Pokemon Red and Blue hit the Gameboy in the 90s. Whatever the reasons, I haven't played a single Pokemo...
It's time to get all your holiday shopping done, but what do you get for the anime fan in your life? Our guide begins with a smorgasbord of figures, statues and collectibles!
―
In case you missed it, more details, including the Japanese staff and cast for one of the most requested anime remakes of all time.
― Funimation announced on Monday that it will stream a new television anime adaptation for Natsuki Takaya's Fruits Basket manga. Funimation stated the anime will air in Japan on TV Tokyo in 2019, and Funimation will stream the anime on FunimationNow. Funimation also conf...
Thunderbolt Fantasy races to the top spot as we catch up on our weekly user rankings! Find out how your favorite shows performed according to our readers' votes.
― Our team of reviewers are following 27 anime series of the Fall 2018 season and readers are rating each episode as the reviews go up. So let's have a look at what ANN readers consider the best (and worst) of the season. Keep in mind that ...
Paul checks out the crude but effective sequel to a troubled anime series about fighting giant bugs on Mars, plus a breakdown of all this week's new anime releases!
― Something about living in the Northeastern US has a tendency to warp one's mind in very particular ways. As I was digging my car out of half a foot of snow last week, I caught myself thinking, "The weather's not too bad today." You kno...
Crunchyroll and Funimation's short-lived romance is over - but why? Justin has a few angles on what happened, and what might happen next.
― Jonathon asked: Funimation ended the partnership with Crunchyroll recently, and a bunch of their shows are getting pulled off of VRV, which sucks. Why did this happen? What will happen to the two companies? Should I be concerned that one of them is going to go a...
This supernatural romance's longest arc yet arrives at its climax in a volume that demonstrates all of this manga's strengths and weaknesses. Nick Creamer has the details.
― The Ancient Magus' Bride's eighth volume ended with Elias betraying Chise's trust so completely that he drove her into the arms of their mutual foe, the mysterious Cartaphilus. Across this ninth volume, both Cartaphilus' and Chis...
Miss any of the big headlines from this weekend's Anime NYC? We've got them all in one place, plus a boatload of cosplay photos!
― November 16-18, 2018 New York City Cosplay Galleries Cosplay Gallery I Cosplay Gallery II Day One Headlines Aniplex USA to Release Black Butler Season 1 on Blu-ray in January Aniplex USA Announces Sword Art Online Alternative: Gun Gale Online English Dub Cast (Update) I ...