News

Boxing Day Anime Releases on DVD and Blu-ray (Updated)

posted on by Andrew Osmond
---
Update - Originally this story listed Samurai Girls as one of the Boxing Day releases. According to a tweet from Manga UK, this title will be released on DVD and Blu-ray on January 30.
Boxing Day sees the sequel to Studio Bones' Darker than Black; a film and an OAV released by Sony Entertainment; and the final instalment of The Girl Who Leapt Through Space.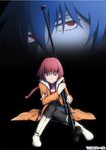 Darker Than Black: Gemini of the Meteor (Darker Than Black: Ryūsei no Gemini), pictured right, is the sequel to Tensai Okamura and Bones' Darker than BLACK science-fiction adventure series. The new story involves the masked fighter Hei, a Russian-Japanese girl named Suō, and her mysterious twin brother.
The third disc on the set features the prequel OAV story, Darker than Black - Kuro no Keiyakusha: Gaiden. It is set between the two Darker than Black TV series. The set has an RRP of £24.99 on DVD, and £29.99 on Blu-ray.

Originally scheduled for last November, The Tatami Galaxy (12), pictured left, is a Madhouse anime directed by Masaaki Yuasa (Kaiba, Mind Game, Kemonozume). Released by Beez, the 11-part comedy shows the strange and often surreal adventures of a college student.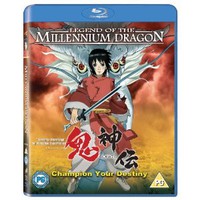 Sony Entertainment is releasing two titles on Boxing Day, both of them in DVD and Blu-ray formats. The PG-rated feature film Legend of the Millennium Dragon, originally called Onigamiden, revolves around a 15-year-old boy who travels back to Japan's Heian period and faces a war between demons and humans in Kyoto.

Sony's other release is First Squad The Moment of Truth (15), Studio 4°C's animated video version of a story by Russian artists Misha Sprits and Aljosha Klimov. The story is set during the opening days of World War II on the Eastern Front. A group of Soviet teenagers with extraordinary abilities has been drafted into a special unit to fight the invading German army.
Finally, Beez will release the third and final DVD volume of The Girl Who Leapt Through Space (12).
---