News

Beez Schedules House of Five Leaves and Tatami Galaxy

posted on by Andrew Osmond
Also, an "Anime Legends" edition of the first season of Gundam 00.
---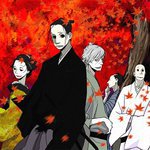 Beez has confirmed to ANN that it plans to release House of Five Leaves and The Tatami Galaxy in October and November respectively - with the proviso that its schedule depends on how quickly it can improve its situation following last week's Sony warehouse fire, which destroyed all Beez's stock.
As noted on the Anime UK News website, the two anime series are both listed on Amazon UK. Scheduled for October 31, House of Five Leaves (right) is a historical drama set in the Edo period during the height of the Shōgun's rule. The series follows the lives of the House of Five Leaves gang members, focusing on the masterless samurai (rōnin) Akitsu Masanosuke who becomes the bodyguard of the gang's charismatic leader, Yaichi. Tomomi Mochizuki (Ocean Waves, Ranma ½) directed the 12-episode anime series at Manglobe (Samurai Champloo).

Scheduled a month later, on November 21, The Tatami Galaxy is based on the novel by Tomihiko Morimi about a nameless third-year college student. The protagonist looks back at the earlier years of his college life and his adventures with a particular circle (club). Masaaki Yuasa (Kaiba, Mind Game, Kemonozume) is directing the 11-episode project for the anime studio Madhouse, while Makoto Ueda (Summer Time Machine Blues, Fujiko F. Fujio's Parallel Space) is writing and supervising the series' scripts.
Both series were originally screened on Fuji TV's Noitamina block. Beez has also scheduled an "Anime Legends" reissue of the first season of Gundam 00 on September 26.
Images © 2010 Natsume Ono/Shogakukan, House of Five Leaves Production Committee
© Yojō-Han Shugisha no Kai

---