News

Hawaiian Film Festival Screens Ace Attorney, Always: Sunset on Third Street '64 Films

posted on by Kimberly Grace
Festival to screen U.S. premieres of both live-action films during April 13-19 event
---

The Hawaii International Film Festival will screen the U.S. premieres of both the Phoenix Wright: Ace Attorney (Gyakuten Saiban) and the Always: Sunset on Third Street '64 live-action films as part of the festival's spring showcase. The festival will be held from April 13-19 at the Regal Dole Cannery Stadium 18 Theaters & Imax in Honolulu, Hawaii.
Takashi Miike's film adaptation of CAPCOM's videogame franchise takes place in a parallel Japan, where a large increase in harsh crimes has led to a new court system. Under this new system, the defense attorney and public prosecutor have three days to battle cases out in open court to determine guilt or innocence of the accused, placing priority on speed instead of thorough investigation.
The film opened in Japan on February 11. At its international premiere at International Film Festival Rotterdam, in the Netherlands, director Miike predicted that the film would be released worldwide.
The film stars Hiroki Narimiya (Gokusen's Noda, NANA's Nobu, Akihabara @ DEEP's Page) as the novice attorney Phoenix Wright (Ryuichi Naruhodo) in his first collaboration with Miike. Other cast members include Takumi Saitō (RoboGeisha, Princess Princess D) as prosecutor Miles Edgeworth (Reiji Mitsurugi) and Mirei Kiritani (Arakawa Under the Bridge's Nino) as Maya Fey (Mayoi Ayasato).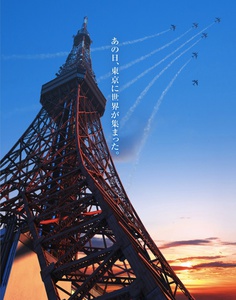 Always: Sunset on Third Street '64 is the third live-action film based on Ryohei Saigan's nostalgic San-chōme no Yūhi - Yūyake no Uta manga directed by Takashi Yamazaki (live-action Space Battleship Yamato, Returner, Ballad). The original manga, a 1990-1991 television anime series adaptation, and the first two live-action films followed the lives of people in a Tokyo neighborhood as the iconic Tokyo Tower rises above them. The film opened at #1 in Japan on January 21.
The film is set in 1964, the year that Tokyo hosted the Summer Olympics that came to symbolize Japan's post-war revival. The third film's timeframe is actually not covered in the original manga, but Saigan approved the production of the film and contributed various ideas to the screenplay.
Yamazaki shot the third film in stereoscopic 3D. Yamazaki and Ryota Kosawa co-wrote the screenplay as they did for the first films. Similarly, Naoki Satō returned from the first two films to compose the music. Hidetaka Yoshioka, Shinichi Tsutsumi, Koyuki, Maki Horikita, Masako Motai, Tomokazu Miura, and Hiroko Yakushimaru all reprised their respective roles from the previous two films.
Thanks to Wilma for the news tip.
---