News

Castle of Cagliostro Comes to U.K. Blu-ray November 12

posted on by Andrew Osmond
---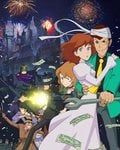 StudioCanal has confirmed to ANN that it will release Hayao Miyazaki's first feature film, the Lupin the Third adventure Castle of Cagliostro, on November 12 in a Blu-ray/DVD double-pack. StudioCanal also reconfirmed that My Neighbor Totoro and Grave of the Fireflies will also appear in double packs on that day, as reported in July. The UK Anime Network site noted that all three of the new editions are already listed on the play.com website.
Released in 1979, Castle of Cagliostro features the master thief Lupin the Third, created by the manga artist Monkey Punch. The story also involves a wicked count and an innocent princess (the latter voiced in Japanese by Sumi Shimamoto, who would play Miyazaki's heroine Nausicaä five years later).
Castle of Cagliostro was previously released on U.K. videotape and DVD by Manga Entertainment, then reissued on DVD in 2005 by StudioCanal's British subsidiary, Optimum Home Releasing. In September 2011, Optimum renamed itself StudioCanal in line with its parent company.
---