News

Kyoto Animation Airs Free! Swimming Anime's New Ad

posted on
---
Kyoto Animation aired a new television commercial for its boys' swim team anime Free! on Friday. In the ad, the main character Haruka Nanase (as voiced by Nobunaga Shimazaki) reminds viewers to catch him and the rest of the cast when the anime premieres on July 3.
The anime will premiere on the Tokyo MX TV station on that day at 24:30 (effectively Thursday, July 4 at 12:30 a.m.)
The story revolves around Haruka, a boy who has always loved to be immersed in water, and to swim in it. After years of separation, his childhood friend Rin (Mamoru Miyano) challenges him to a swimming match, showing Haruka his overwhelming power. Not wanting it to end like this, Haruka gathers together Makoto and Nagisa (Tsubasa Yonaga) once again, and also brings a new member named Rei Ryugazaki (Daisuke Hirakawa) to create the Iwatobi High School Swimming Club. Haruka, Makoto, Nagisa, Rei, and Rin come together for a story of swimming, youth, and friendship.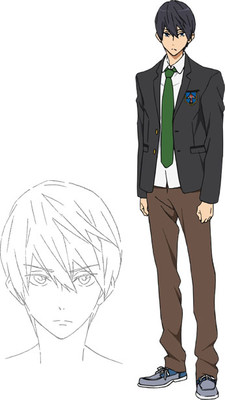 Haruka is an 11th grader who loves to swim. His strong and quiet swimming style fascinates many, and he holds a strong fixation on freestyle swimming.


Tatsuhisa Suzuki plays Makoto Tachibana, Haruka's inseparable best friend in 11th grade. He understands Haruka's good points, and is often forced to speak as his spokesman. He is very kind and considerate, but is also very easily scared and weak-hearted.


Mamoru Miyano plays Rin Matsuoka, Haruka's rival who is also in 11th grade. He had gone abroad to study swimming, but his personality changed immensely by the time he had returned to Japan. He often perplexes his former teammates.


Tsubasa Yonaga plays Nagisa Hazuki, a 10th grader who has a very strong heart, and never has any wavering in his words or actions. An admirer of Haruka's swimming and wanting to swim with him once again, he entered the same school as Haruka was attending.


Daisuke Hirakawa plays Rei Ryugasaki, a classmate of Nagisa's in 10th grade. He was originally a member of the track team, but decided to join the swimming club instead. A handsome, intelligent young man who often gets manipulated by Rin for some reason.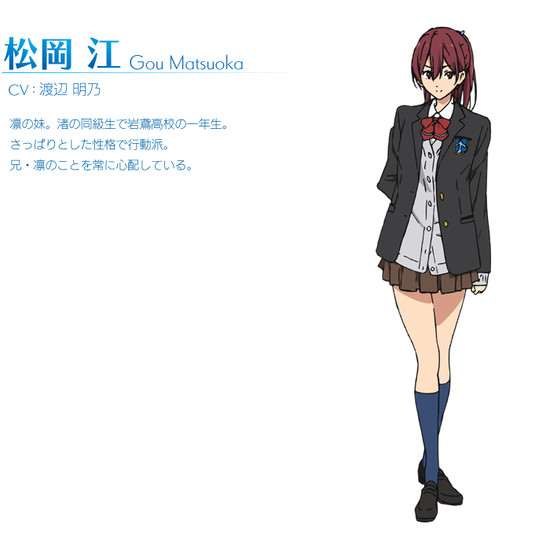 Akeno Watanabe (Soul Eater, Gintama) plays Gou Matsuoka, Rin's little sister and a first-year student at Iwasobi High School. She is a straightforward and active girl, and she is always worrying about her brother.





Satsuki Yukino (Inuyasha, Gintama) plays Miho Amakata, Haruka and Makoto's homeroom teacher and classic literature teacher. She seems to have been an office lady in Tokyo in the past, but no one knows the details. She utters the words of great figures from ages past. Due to her personality, when she asks something of someone, they can't refuse.


The television anime is based on Kōji Ōji's High Speed!, an honorable mention recipient in the 2nd Kyoto Animation Award in 2011. Hiroko Utsumi of Animation Do is directing the anime, and Masahiro Yokotani is supervising the scripts. Futoshi Nishiya is designing the characters, and Tatsuya Katou is composing the music.

Much of the same production staff created the "Suiei-hen" (Swimming) anime commercial that was unveiled in March. Animation DO had teased "a project in the works" with an image of Haruka swimming last year.

[Via NicoTubeAnime]
---