News

BBFC Comments on Classifying Anime

posted on

2013-12-20

23:50 EST
Anime described as "jarring," often throwing BBFC examiners "curveballs."
---
The latest podcast produced by the British Board of Film Classification (BBFC) includes some comments on classifying anime, beginning at 17:40.
Emily Fussell, one of the BBFC examiners on the podcast, says that it is hard to classify anime, 'because sometimes you are thrown complete curveballs. So you will think that you are watching a series about a bunch of schoolchildren fighting aliens... and then one of them will stick their finger up another one's bum, or they'll show their boobs... Sometimes it's just not what you think it is.'
A second examiner, James Blatch, says that anime is especially 'jarring' in that one is 'watching what you think is aimed at young adolescents and has what we would consider totally inappropriate material and imagery. You sit there thinking 'who is this aimed at?' and of course it's from another part of the world... How do we classify it for a UK audience?'
Fussell adds that, 'We make an allowance for the fact that the people who watch anime generally tend to be fans, and they will be completists and will want the whole series, and they will know the backstory, but at the same time we have to classify it for UK audiences. So if it does have some stuff that is much more sexual than what we would normally pass at PG, then we would put it up to 12.'
On more explicit anime, Fussell says, 'Weirdly, with anime you can almost show more detail than you can do with live-action.' The examiner cites Deadman Wonderland (pictured right), which features an eye-gouging. (The series was rated 18 by the BBFC for 'very strong language and strong bloody violence.")
Fussell notes that the releases of adult animated films from other countries (Waltz with Bashir, Persepolis) may be altering the perception of animation as a children's medium. "But the specific problem for anime is that sometimes it really does look like it's aimed at kids," Fussell says.
The discussion moves on to the prevalence of anime with school-age characters, and 'fanservice' involving young-looking girls, which can make an examiner 'uncomfortable' with passing a title as a U or PG.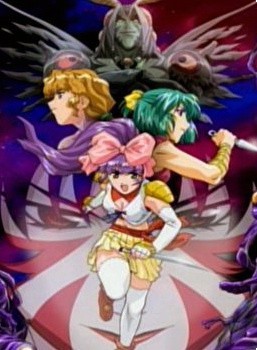 The pornographic La Blue Girl Returns (pictured left) is mentioned. Blatch says, "The characters were presented more or less as children... We didn't really have anywhere to go with that except to think this potentially encouraged an interest in underage sex." (The series was heavily cut for an 18-rated U.K. DVD.)
Fussell concludes, "You really do not know what you're going to get (with anime), especially if you get a new series... There is no clue in the title, no clue when you see the characters lined up... It's quite an interesting adventure, delving into an anime series."
The BBFC website also includes a report on anime, dating from 2006, which makes similar comments to the podcast.
Thanks to Jesse Betteridge for the news tip.
---