News

Kamen Rider War Film Lets Fans Vote on Ending

posted on by Egan Loo
Fan poll will decide if Heisei Riders or Showa Riders win unprecedented matchup
---

The Heisei Rider vs. Showa Rider: Kamen Rider War feat. Super Sentai film is letting fans vote between two different endings to determine the winner of the final battle. The producers are preparing two endings — one in which the Heisei Riders win, and one in which the Showa Riders win — but only one will be shown in theaters.
The film will feature a total of 30 Riders, including 15 Showa-era Riders led by the original Kamen Rider 1, and 15 newer Heisei-era Riders such as those from the ongoing Kamen Rider Gaim television series.
Toei has produced several "Vs. Series" films between different Kamen Rider and Super Sentai stars in the past. However, all the previous films did not depict a clear victory or defeat. Toei producer Shinichiro Shirakura commented, "This time, we are seriously invested in victory or defeat, so we prepared two endings." While the two sides both seek the same justice, Shirakura explained that the outcome between "the Showa Riders who fight evil for the good of society and the Heisei Riders who fight as individuals" will be left in the hands of fans.
At first glance, one might think that the popular Heisei Riders born in the new era have the advantage, but in this movie, Takeshi Hongo is transforming as the original Kamen Rider 1 for the first time in 38 years. Shirakura said that when Hongo enters the scene and transforms, you might rethink the Heisei Riders' chances of winning.
Voting began at 8:00 a.m. on Sunday in Japan (6:00 p.m. ET on Saturday), and will continue until March 28 — the day before the film opens. After 20 minutes of voting, the Showa Riders are winning with 467 votes (74.1%) versus the Heisei Riders' 163 votes (25.9%).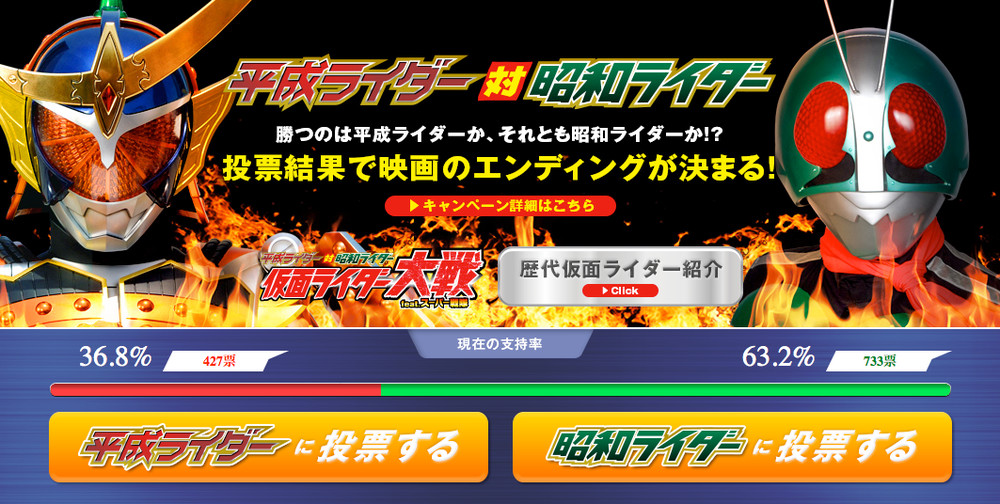 While the ending to a Kamen Rider Ryūki special was determined by a poll of viewers, this is the first time in the franchise that a film's ending will be decided by fans. Plus, this is the first all-out battle between Heisei Riders and Showa Riders.
The film will open on March 29. Participating theaters are selling advance tickets with one of two kinds of Super Hero craft paper tape.
The late manga pioneer Shotaro Ishinomori created or co-created Kamen Rider, Himitsu Sentai Go-Ranger (the first Super Sentai/Ranger series), Jinzou Ningen Kikaida, Cyborg 009, and dozens of other projects.
Source: Cinema Today
Images © Ishimori Pro, TV Asahi, ADK, Toei AG, Toei Video, Toei
---