News

Yozakura Quartet's Yasuda Designs Digimonstory Cybersleuth

posted on by Egan Loo
Vita game lets you Connect Jump between digital & real worlds to solve mysteries
---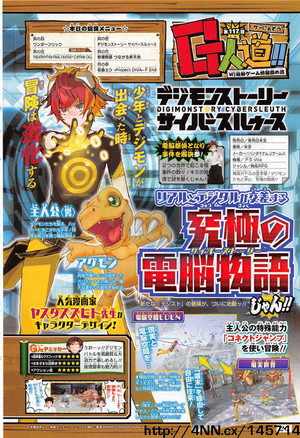 This year's 13th issue of Shueisha's Weekly Shonen Jump magazine is announcing on Monday that popular manga creator Suzuhito Yasuda (Yozakura Quartet) is designing the characters for the Digimonstory Cybersleuth PlayStation Vita game. The game has the tagline, "When the boy and the Digimon meet … the adventure evolves."
The male protagonist is a boy who controls Digimon and looks up to hackers. He is a cybersleuth with special skills. Agumon is a Digimon who resembles a carnivorous dinosaur, but this appearance belies his great evolving ability. Several mysterious events occur in both the real and digital worlds, and you must become a cybersleuth to solve the mysteries with deduction.
The protagonist lost his physical body in a mishap in cyberspace, but he awakens in a digital body with special abilities. He can freely Connect Jump between the Cyberspace Eden and the real world via terminals.
The game is described as a "rule-of-virtue training RPG game," where the game will take place over the course of four years and evolve. The game boasts many new places to explore, plenty of Digimon to train, and better graphics. Players can even bring their Digimon into the real world. The story takes place in Japan in the near future, when the player must solve different mysteries befalling the Digital World.
This is one of many games in the Digimon game project announced in recent years. A PSP game, titled Digimon World Re:Digitize was released in 2012. A 3DS expanded was released last June.
An iOS card fight Game was announced and released in fall 2012. the Digimon Adventure PSP game, a complete retelling of the Digimon Adventure anime, was released last year. The game not only recreated every episode from the 1999 television anime series, but also the 2000 film Digimon Adventure - Bokura no War Game from director Mamoru Hosoda (The Girl Who Leapt Through Time, Summer Wars, Wolf Children).
Yasuda drew the illustrations for the Durarara!! light novel series and designed the characters in the Devil Survivor game series. He also designed the characters in Digimon World Re:Digitize.
---