News

Blade & Soul Fantasy Anime's 2nd Promo Streamed

posted on

2014-03-08

10:00 EST by Sarah Nelkin
---
The second promotional video for the television anime adaptation of NCSoft's Blade & Soul MMORPG began streaming on Saturday. The video features the anime's opening theme song "Sayonara Usotsuki" (Farewell, Liar) by Mimimeme MIMI.
The website is also listing new cast members, including:
Yuki Takao as Alka, the protagonist and sword fighter trained in the assassin group Tsurugi
Shizuka Itou as Yu Lan, a bewitching subordinate of Jin
Rikiya Koyama as Ga Gante, a large subordinate of Jin
Marina Inoue as Yū
Cho as Hon Dōgen, Alka's mentor
Ryoko Shiraishi as Lon, a peddler from the Rin clan
The new cast members will join the previously-announced:
Aoi Yuki as Jin Valel, the other protagonist and counterpart to Alka
Sayaka Ohara as Elle Karen, who ostensibly operates as the head of an recreational facility/inn
Sora Amamiya as Jin Hazuki, a mercenary
Ayahi Takagaki as Dan Roana, the leader of a pilfering group known as the "entertainment party"
In addition, the website is listing new staff members:
Scripts: Atsuhiro Tomoioka, Kenji Konuta, Daisuke Ishibashi, Ayumu Hisao, Kayo Wakanuki
Storyboard Director: Eri Nagata, Satoru Kiyomaru
Art Director: Ken'ichi Tatefuji
Color Key: Akemi Nagao
Director of Photography: Shinya Matsui
3D Director: Nanaka Mori
Editing: Masato Yoshitake
Music: Taro Iwashiro
Sound Director: Hiroto Morishita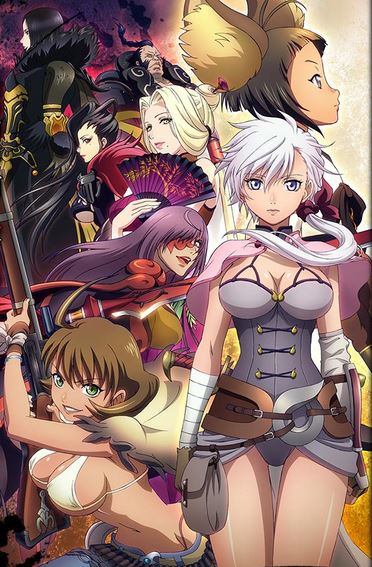 The story revolves around Alka, a female swordswoman who uses a blade that can cut enemies with one attack. Alka travels in order to get revenge for her teacher, Hon, who was killed. The one who killed him was Jin Valel, a woman who heartlessly steals the lives of people like a monster. However, as she is part of the same assassination clan, the "Blade Clan," she feels that she is similar to her. During her travels, Alka meets three women. The master of song and dance Karen, the alcohol and gun-loving Hazuki, and Roana, the head of a band of thieves.
Hiroshi Hamasaki (Steins;Gate, Texhnolyze) and Hiroshi Takeuchi (Bodacious Space Pirates chief animation director) will direct the anime at studio GONZO from scripts by Atsuhiro Tomioka (Inazuma Eleven, Pokemon XY). Eri Nagata (Leviathan: The Last Defense, Psycho-Pass sub-character design) is adapting Hyung-Tae Kim's game character designs for animation and serving as chief animation director. LEGO BIG MORL is performing the anime's ending theme, "RAINBOW."
The anime will premiere on April 3, and the CD single for "RAINBOW" will go on sale on April 30.
Update: Dan and Elle's profiles swapped. Thanks, DangerMouse
---