News

7th Nanana's Buried Treasure Novel Volume Has No In-Story Art by Akaringo

posted on by Sarah Nelkin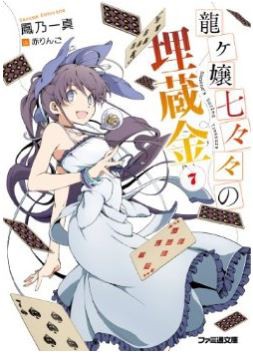 The seventh volume of Kazuma Ōtorino's Ryūgajō Nanana no Maizōkin (Nanana's Buried Treasure) light novel series shipped on March 29, but the volume features no art by series illustrator Akaringo in the actual text due to Akaringo's poor health.
Enterbrain posted a notice on its website, apologizing for the lack of illustrations and explaining the situation. According to the company, they were able to use already existing illustrations for the cover and color art at the beginning of the novel. However, the artist could not prepare any monochrome artwork for the novel's text.
The company also added that it is working on a plan to allow customers to view the art that was not in the novel when it shipped in March. When the plan is decided on, Enterbrain will upload it to the FBOnline online light novel magazine's website.
The story centers around the treasure of Nanana, a ghost who was once a beautiful but NEET (Not in Education, Employment or Training) girl. A boy named Jūgo was disowned by his father and forced to transfer to a high school on the "Special Student Zone," an artificial island. With only 40,000 yen (about US$400) a month to live on, Jūgo chooses a low-rent apartment that happens to be haunted by Nanana. Jūgo and members of the school's adventure club join a "treasure hunt royale" on the island for the Nanana Collection, treasures that possesses a mysterious power.
An anime starring Rui Tanabe and Yuuki Ono began airing in April. Aniplex of America has announced that it has acquired the series, and Daisuki began streaming the series one month after its Japanese broadcast. Crunchyroll is streaming the series as it airs in Japan.
---