News

Third Berserk Feature Film Released Monday

posted on by Andrew Osmond
---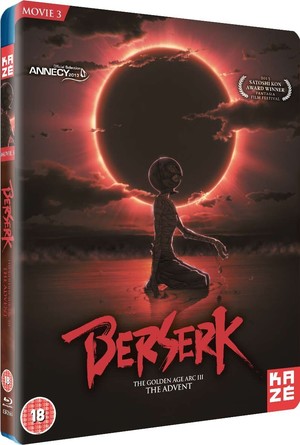 On Monday October 6, Manga Entertainment will release Blu-ray and DVD editions of the film Berserk: The Golden Age Arc III - The Advent. This is the third in a trilogy of cinema films based upon the epic violent fantasy manga by Kentaro Miura. Fetch Publicity describes the story: 'It's been a year since Griffith's imprisonment by the Kingdom of Midland. Once praised as the saviors of Midland, the Band of the Hawk is now on the run and on the brink of breaking apart. Much to everyone's surprise, Guts returns to the Hawks, and the search for Griffith begins!' The Blu-ray edition (pictured), but not the DVD, will include extras such as interviews with the Japanese cast and footage of musician Susumu Hirasawa in concert. The BBFC has rated the film '18' for 'sexual violence, strong bloody violence, strong sex.'

Manga Entertainment will release the second half of Robotics;Notes on Blu-ray and DVD. The series adapts the Xbox 360/PlayStation 3 game of the same name by the makers of Steins;Gate and Chaos;HEAd. The third "science adventure game" presents a near-future world, immersed in realistic augmented reality technology. It revolves around a high school robotics research club on a small island, which is building a giant robot amid rumours of a giant world-changing conspiracy.

Anime Limited will release a complete series edition of Cowboy Bebop on Blu-ray. Directed by Shinichiro Watanabe, the sf/action series follows the adventures of the bounty hunter Spike Spiegel, along with his Jet Black, Faye Valentine, Ed and the intelligent Welsh Corgi Ein. (The complete series was previously released on DVD in June.)
MVM had said previously that its Blu-ray release of From the New World Part 2 would also be on October 6. However, MVM's Anime-on-line site (and Amazon UK) are now showing a release of October 27 for this title.
---
this article has been modified since it was originally posted; see change history