News

Madoka Magica Characters Get Cameos in Princess Punt Mobile Game

posted on by Rachel Mahoney
Crossover gameplay features five main characters, witches, items
---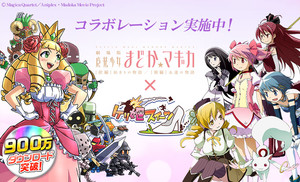 GungHo Online Entertainment began a collaboration on Friday between its mobile game Princess Punt (Kerihime Sweets) and the Puella Magi Madoka Magica films. The crossover will run until November 21.
The Japanese version of the game currently features the Origin Story Slot crossover story, which allows players to unlock Madoka, Mami, and Sayaka as guest characters along with the characters' weapons and the Mitakihara Middle School uniform as items. The Eternal Story Slot is scheduled for November 14, and will allow players to unlock Madoka, Kyoko, and Homura and their weapons. A special stage with Madoka Magica motif, where players can to battle witches from the story, is also available. Completing the stage will unlock Madoka's bow, a Mitakihara Middle School bag, and a Kyubei accessory.
The Princess Punt iOS and Android game involves kicking troops at enemies in a similar fashion to Angry Birds.
Source: 4Gamer via Siliconera
---