×
remind me tomorrow
remind me next week
never remind me
Subscribe to the ANN Newsletter • Wake up every Sunday to a curated list of ANN's most interesting posts of the week.
read more
News

Punch Line Anime's 3rd Video Teases, 'Once He Sees Panties, Humanity Is Destroyed!?'

posted on by Egan Loo
---
The official website for the Punch Line television anime posted the third promotional video and a new key visual on Sunday. Shoko Nakagawa (Shokotan) and Dempagumi.inc perform the opening theme "PUNCH LINE!", under the group name, "Shokotan Dempagumi.inc."
Yuta: Wait... What just happened...?
Chiranosuke: Like I'm telling you... It's all your fault things ended up like this.
Yuta: Um, I have no idea what you're talking about.
Chiranosuke: When you get aroused and lose concsiousness, humanity will be destroyed, mmkay?
Yuta: What... Are you talking about...!?
Chiranosuke: There's no reason you have to think so hard about this. All you have to do is not get aroused if you don't want to make humanity extinct. That's it.
Chiranosuke: And soooo Yuta Iridatsu, your soul has separated from your body!
Yuta: I don't have any legs!!!
Chiranosuke: Ok, so just go look for the book already.
Yuta: What the heck is that?
Chiranosuke: Now, go, Yuta Iridatsu! Find the most happy and peaceful future!
Text: Once he sees panties, humanity is destroyed!?
Mikatan: Hi! I made apple pie, would you like some?
Ito: Yummy! No matter how much I stuff in my mouth, it's delicious!
Meika: How about at least givin' a greeting or somethin'? After all, we're livin' under the same roof starting today.
Rabura: Ooh, we can't just stand still! Let's go, Ito!
Yuta: Oh come on. As if I would-
Chiranosuke: Seriously?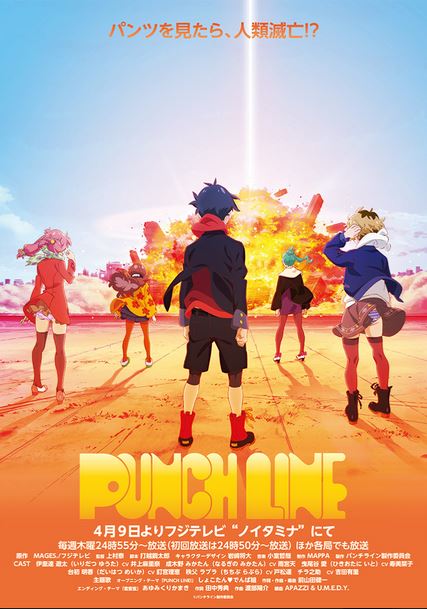 The new key visual's tagline reads, "Once he sees panties, humanity is destroyed!?" Writer Kōtarō Uchikoshi (Ever17) told Famitsu magazine that a game project is in the works.
The cast includes:

Marina Inoue as Yūta Iridatsu, the protagonist whose spirit has been separated from his body.

Sora Amamiya as Mikatan Narugino, a bright and spacey idol.

Rie Kugimiya as Meika Daihatsu, a genius inventor who loves her grandfather.


Minako Kotobuki as Ito Hikiotani, a NEET who plays online games.

Haruka Tomatsu as Rabura Chichibu, a gal-style fishy spiritual medium.
In addition, Yuri Yoshida plays Chiranosuke.
Yutaka Uemura directs the series at MAPPA from scripts by Kōtarō Uchikoshi, who is best known for his scripts for the adventure visual novel Ever17. Music producer and composer Tetsuya Komuro is scoring the anime's music, and MAGES. is producing the show. Shōta Iwasaki is designing the characters.
The series will premiere in Fuji TV's late-night Noitamina timeslot on April 9.
[Via Yaraon!]
---