News

GANTZ:O 3DCG Film Reveals 1st Teaser Video

posted on by Crystalyn Hodgkins
---
Toho Animation began streaming the first teaser video on Thursday for GANTZ:O, the upcoming "full 3DCG" anime film based on Hiroya Oku's Gantz manga.
Text: More than 21 million copies printed
Text: Your lives have disappeared.
Text: I will now have you finish off this person.
Text: Forwarding address, Hell.
Narrator and Text: GANTZ:O
Text: "I am probably the one looking forward to this the most in the whole world." — original author Hiroya Oku
Keiichi Satou (Tiger & Bunny, Asura) is the chief director for the film, and Yasushi Kawamura (Appleseed: Ex Machina CGI director) is directing the film. Tsutomu Kuroiwa (One Piece Film Gold script) is writing the screenplay. Digital Frontier is handling production.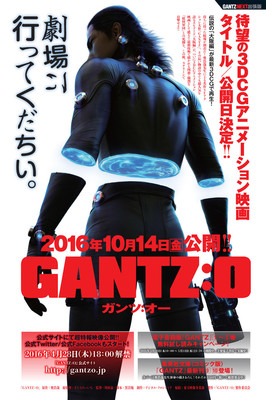 The film, which adapts the original manga's Osaka arc, is slated to open in Japan on October 14.
Oku launched the 37-volume Gantz manga in Young Jump in 2000, and he ended the manga in 2013. The original manga followed a young Tokyo man named Kei who is reanimated after a deadly subway accident. Kei and other resurrected people go on violent, seemingly endless missions at the behest of an unseen host.
The manga inspired a television anime series animated by Gonzo (and released by ADV Films in North America) and two live-action films (released by NEW PEOPLE Entertainment). Dark Horse Comics released the final English volume of the manga in North America in October.
Oku and Keita Iizuka (Blue Gralia) launched the GANTZ:G manga in Shueisha's Miracle Jump magazine in November.
---