News

Kami-sama Minarai: Himitsu no Cocotama Film Adds Yukina Kinoshita as Guest Cast

posted on by Rafael Antonio Pineda
New trailer shows Kinoshita's character Hapipina in April 28 film
---
The official website for Bandai's Kami-sama Minarai: Himitsu no Cocotama (God Apprentices: Secretive Cocotama) television anime series announced on Thursday that Yukina Kinoshita will be a guest voice actress in the upcoming film, Eiga Kami-sama Minarai: Himitsu no Cocotama: Kiseki o Okose ♪ Teppuru to Dokidoki Cocotama Kai (God Apprentices: Secretive Cocotama Movie: Make a Miracle ♪ Teppuru and the Heart-Pounding Cocotama World). The site is also streaming a new trailer that features Kinoshita.
Kinoshita will play the character Hapipina, a god that all Cocotama apprentices look up to. In the Cocotama World, she is a member of the "Let's Send Happy Stars" division, which sends happiness to people every day. She has a bright and honest personality, but she can be scary when angry.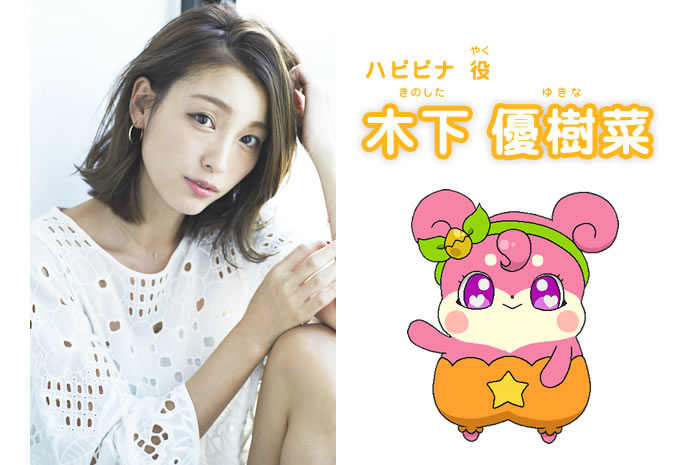 The film opens in Japan on April 28.

The film will introduce the "Cocotama World" and a new character named "Teppuru."
In the franchise, "Cocotama" are tiny gods born from the thoughts and feelings of objects that people use with great care. The fact that Cocotama wear part of the egg they hatch out of as underwear is proof that they are still apprentices. The Cocotama use a mysterious magic, and they train hard to be of use to humans and to become full gods. They live inside human houses and stealthily move around to help humans find things they have lost, although they make many mistakes.
The Kami-sama Minarai: Himitsu no Cocotama anime series premiered on TV Tokyo in October 2015. The franchise also includes a popular line of toys and a free smartphone app.
The Eiga Tamagotchi: Himitsu no Otodake Daisakusen! (Tamagotchi the Movie: Great Secret Delivery Strategy) anime short will screen alongside the movie.
Source: Animate Times
---