News

'Miffy' Children's Book Creator Dick Bruna Passes Away

posted on by Karen Ressler
Rabbit character was popular in Japan, appeared in TV anime
---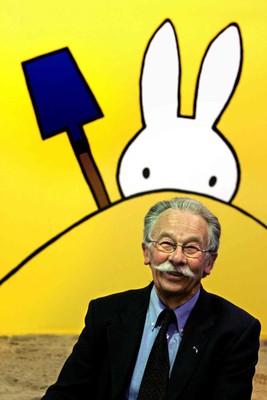 Dick Bruna, creator of the children's book character Miffy, passed away on Thursday at 89. The Dutch writer and illustrator died peacefully in his sleep.
Bruna began writing the internationally popular rabbit character Miffy (known as Nijntje in Dutch) in 1955. Since then, more than 80 million Miffy books have been sold worldwide, translated into more than 50 languages.
The character is especially popular in Japan. While some of the animated works starring Miffy were produced in the Netherlands, Toshio NIshiuchi directed a 1997 version of Anime Bruna no Ehon (Bruna's Picture Book Anime) at the Japanese studio Product Team Sarah. Keiko Hoshi conceived of this anime, and the Japanese public broadcaster NHK aired it. Pony Canyon released this series on home video in Japan, while Geneon Entertainment (USA) Inc. did the same in North America. More recently, a Miffy-themed cafe opened in Tokyo for a limited time last year.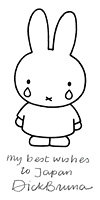 The character's copyright manager Mercis bv once engaged in a legal dispute with Sanrio (Hello Kitty) over Sanrio's similar rabbit character, but the companies withdrew their legal actions following the 2011 Tōhoku earthquake and tsunami, and both donated to relief and reconstruction. Bruna himself drew a picture of Miffy (pictured at left) to express his condolences to Japan.
Bruna published his last Miffy book in 2011 and retired in 2014. A museum dedicated to his Miffy works is still open in the Netherlands.
Sources: BBC News, The Guardian via Otakomu
---