News

Crunchyroll to Publish Final Fantasy: Lost Stranger, Knight's & Magic, Restaurant to Another World Manga Simultaneously With Japan

posted on by Karen Ressler
---


Anime News Network's coverage of Anime Expo 2017 is sponsored by Aniplex and Yen Press.
---

Crunchyroll announced at its Anime Expo panel on Sunday that it will publish the following three manga titles simultaneously with Japan:
Hazuki Minase and Itsuki Kameya's Final Fantasy: Lost Stranger (launching July 12)
Hisago Amazake-no and Takuji Katō's Knight's & Magic (launching July 5)
Junpei Inuzaka and Takaaki Kugatsu's Restaurant to Another World (launching July 2)
The titles will be available on Crunchyroll's website and iOS and Android apps. In addition, Crunchyroll announced that more that 400 manga titles form Seven Seas Entertainment will join its ebook service later this month.
Yen Press also announced simultaneous publication of Final Fantasy: Lost Stranger this weekend. Minase (C³) is providing the story for the manga, and Kameya (Kaidan Tochū no Big Noise) is illustrating the series. The manga will launch in the August issue of Square Enix's Shonen Gangan on July 12. It is the Final Fantasy franchise's first original manga.
Crunchyroll describes the story:
Scoring a job at Square Enix, Sasaki Shogo's dream of producing a Final Fantasy game finally seems within his grasp! But after he starts, he quickly discovers that the work has nothing to do with his favorite franchise at all… Disillusioned, his enthusiasm for FF begins waning despite his sister / co-worker Yuko's attempts to lift his spirits. Their conversation is cut short, though, when a runaway truck suddenly careens toward the two of them…!

When Shogo comes to, the first thing he sees is…a Moogle?! Wait, was that a Cure spell? And chocobos…?! Hurled into a Final Fantasy world unbound to any particular installment, how will an uber-fan like Shogo survive?!

Katō began the manga adaptation of Hisago Amazake-no's Knight's & Magic light novel series in Square Enix's Young Gangan magazine on April 15. Crunchyroll describes the story:
A genius programmer and hardcore robot otaku is reborn into a world of knights and magic, where huge robots called Silhouette Knights roar across the land! Now reborn as Ernesti Echevalier, he uses his vast knowledge of machines and programming talents to begin to make his ultimate robot. But his actions have unexpected results...?! The dreams of a robot otaku will change the world!
Crunchyroll began streaming the anime adaptation on Sunday, and Funimation will stream a simuldub.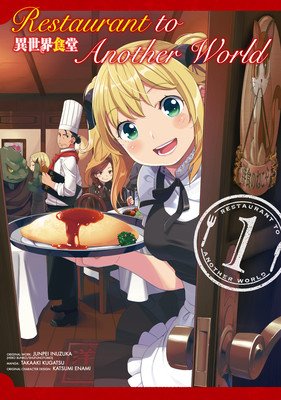 Kugatsu launched the manga based on Junpei Inuzuka's Isekai Shokudō (Alternate-World Restaurant) light novel series in Square Enix's Young Gangan magazine in November. Crunchyroll describes the story:
There is a certain restaurant in one corner of a shopping street near the office district. The historical restaurant, marked by a sign with a picture of a cat, is called "Western Cuisine Nekoya." This restaurant looks completely normal through the week, but on Saturdays, it opens in secret exclusively to some very unique guests. During these hours, doors in various areas of a parallel world open to allow customers of many different races and cultures into the restaurant. This "Restaurant to Another World" and its food hold an exotic charm to these highly diverse customers. This is a story of the heartwarming, once-in-a-lifetime encounters between our reality and another world, between the restaurant's customers and its owner, and the food shared among them all.
Crunchyroll will stream the anime adaptation as it airs beginning on Monday, and Funimation will stream a simuldub.
---