News

Shonen Jump Characters Star in Jumputi Heroes Crossover Smartphone Game

posted on

2018-02-05

16:36 EST by Karen Ressler
Puzzle RPG for iOS/Android slated for spring
---
Shueisha announced on Monday that LINE is developing a new smartphone game featuring characters from its Shonen Jump magazine. The free-to-play puzzle game is titled Jumputi Heroes (Jump Petit Heroes) and is slated for this spring on iOS and Android devices.

The game takes place on "Jumputi Island" where Shonen Jump characters live in peace until the demon king awakens and makes all the characters small (super-deformed). The player must solve puzzles to grant the characters abilities in battle.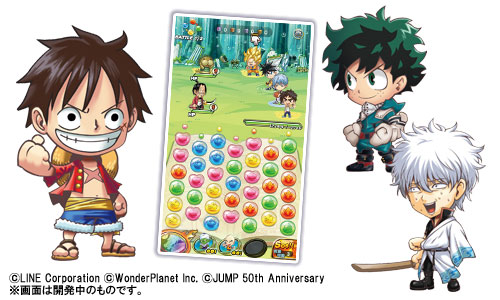 The staff are holding a pre-registration campaign offering in-game items to all players depending on how many people friend the official LINE account or follow the official Twitter account.
The game features characters from manga that began serialization in Shonen Jump in the 1980s or later. The titles represented in the game include:
Dragon Ball
One Piece
My Hero Academia
World Trigger
Rurouni Kenshin
Yu Yu Hakusho
Gintama
Kuroko's Basketball
Hoshin Engi
D.Gray-Man
Medaka Box
To Love-ru
Hinomaru Zumo
Bobobo-bo Bo-bobo
Beelzebub
Strawberry 100%
Majin Tantei Nōgami Neuro (Neuro - Supernatural Detective)
Kochira Katsushika-ku Kamearikouen-mae Hashutsujo
Ninku
Sakigake!! Otoko Juku
Space Adventure Cobra
Saint Seiya
Cat's Eye
Jigoku Sensei Nube
Ginga Nagareboshi Gin
Sexy Commando Gaiden: Sugoi yo!! Masaru-san
Tottemo! Luckyman
Chinyūki ~Tarō to Yukai na Nakama-tachi~
The game is part of the magazine's 50th anniversary celebration.
Bandai Namco Entertainment also released a smartphone game featuring Shonen Jump characters last July.
---