News

Udon Entertainment Previews Otherwordly Izakaya 'Nobu' Manga's English Release

posted on by Jennifer Sherman
Volume 1 to ship in September
---
Udon Entertainment announced on March 29 that it will release the first volume of Virginia Nitōhei's Otherwordly Izakaya "Nobu" (Isekai Izakaya "Nobu") manga in September. The company posted a six-page preview of the release on its official website on March 29.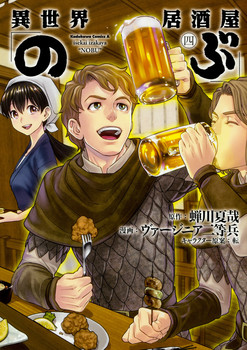 The manga adapts Natsuya Semikawa's novel series of the same name. Udon Entertainment describes Otherworldly Izakaya "Nobu":
A Japanese style pub called "Nobu" exists in a back alley of the fictional medieval European city of Eiteriach. When the citizens of this strange world sit down to enjoy some unfamiliar Japanese cuisine, their troubles simply melt away… With over 900,000 copies already in print in Japan, the OTHERWORLDLY IZAKAYA NOBU manga series hits North American shelves in September 2018 through UDON Entertainment.

The series is written by Natsuya Semikawa and illustrated by Virginia Nitouhei. Each volume of this delightful manga is packed with tidbits about both Japanese and German cuisine, for which publisher UDON Entertainment have included a hearty helping of footnotes for fervent foodies.
Semikawa launched the novel series on the Shōsetsu-ka ni Narou ("Let's Be Novelists") website in 2012, and the series won the site's "Ni Narou Con Taishō" contest award. Takarajimasha began publishing the story in print with illustrations by Kururi in 2014. Takarajima published the fourth volume of the series in December 2015, and is reprinting the series in bunkobon pocket paperback format with some new material. Nitōhei launched the manga adaptation in Kadokawa's Young Ace magazine in July 2015, and Kadokawa published the manga's fifth compiled book volume on December 29. The sixth volume will ship on May 2.
Isekai Izakaya: Japanese Food From Another World, the anime of the novels, premiered simultaneously worldwide on April 13 on various streaming services, including on Crunchyroll for regions outside Japan and Asia, and on bilibili in Asia.
---