News

Boarding School Juliet TV Anime Casts Tomokazu Sugita

posted on by Jennifer Sherman
Series premieres in October
---
The official website for the television anime of Yōsuke Kaneda's school romantic comedy manga series Kishuku Gakkō no Juliet (Boarding School Juliet) revealed on Wednesday that Tomokazu Sugita will play Chizuru Maru.
Tomokazu Sugita as Chizuru Maru


The series will premiere in October on the MBS, TBS, and BS-TBS in the Animeism programming block. It will also stream exclusively on the Amazon Prime Video service in Japan and overseas (except in mainland China). The United Cinemas Aqua City Odaiba theater's Screen 1 will host two advance screenings — the first with cast members Yūki Ono, Ai Kayano, Ayane Sakura, and Yu Shimamura, and the second with Ono, Kayano, Rina Hidaka, and Yui Ogura — on September 23.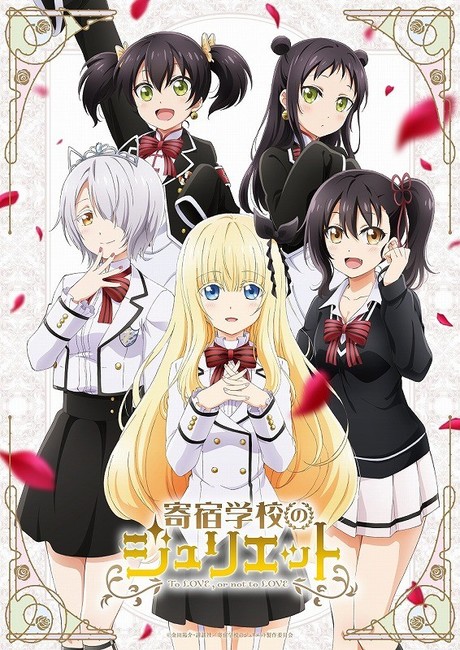 The anime stars:
Yūki Ono as Romio Inuzuka, the first-year leader of the Tōwa Nation's "Black Doggy House" dormitory.


Ai Kayano as Juliet Percia, the first-year leader of the Principality of West's "White Cats House" dormitory.


Ayane Sakura as Hasuki Komai, a first-year student in the "Black Doggy House" dormitory, and the childhood friend of Romio


Yu Shimamura as Chartreux Westia (nickname: Char), a first-year student in the "White Cats House" dormitory, and the princess of the Principality of the West


Rina Hidaka as Kochō (left in image below), Yui Ogura as Teria (right)

Hiroshi Kamiya as Scott Fold


Seiki Takuno (Love and Lies, Yamada-kun and the Seven Witches, Poco's Udon World) is directing the anime at LIDEN FILMS. Fumiaki Usui (assistant director for Love and Lies, Sekkō Boys, Poco's Udon World) is the assistant director, and Takao Yoshioka (WATAMOTE, Wagnaria!!2, Ikki Tousen) is both overseeing and writing the scripts. Yūki Morimoto (Miss Monochrome, Miss Monochrome - The Animation- 2) is designing the characters for animation, and Masaru Yokoyama (Yamada-kun and the Seven Witches, Kabukibu!, Your Lie in April) is composing the music.
Other staff members include:
The musical act fripSide is performing the opening theme song "Love with You," and Riho Iida is performing the ending theme song "Itsuka Sekai ga Kawaru Made" (Until the World Changes Someday).
The story follows two students from two nations who attend the Dahlia Academy boarding school, and a forbidden love that blooms between them. In the Tōwa Nation's dormitory stands Romio Inuzuka, and in the Principality of West dormitory stands his lover and eternal enemy, Juliet Percia. Everything begins with the confession that Romio stakes his life on.
Kodansha Comics began releasing the manga digitally in English on April 10 as one of its digital first titles. Kodansha Comics also announced at Anime Expo that it will publish the manga in print.
Kaneda launched the manga in Kodansha's Bessatsu Shōnen Magazine in 2015, and the manga moved to Kodansha's Weekly Shōnen Magazine in 2017. Kodansha published the eighth volume on June 15. The series received a nomination in the Shōnen category of the 41st Annual Kodansha Manga Awards last year.
Sources: Boarding School Juliet's website, Comic Natalie
---