×
remind me tomorrow
remind me next week
never remind me
Subscribe to the ANN Newsletter • Wake up every Sunday to a curated list of ANN's most interesting posts of the week.
read more
News

43rd Annual Kodansha Manga Awards' Nominees Announced

posted on by Rafael Antonio Pineda
---
Japanese publisher Kodansha announced the 12 nominees in three categories for its 43rd annual Manga Awards on Wednesday. Kodansha will announce the winner for each category on May 10.
Best Shōnen Manga

act-age
Tatsuya Matsuki, Shiro Usazaki
Magazine: Weekly Shonen Jump (Shueisha)
Summary: Being a famous actress or an actor is a dream millions of people all over the world have. While it's not impossible to achieve, it's ridiculously hard to make in the biz, no matter what country you're in. But Kei Yonagi's not like the other actresses, she has "super acting" powers. Her skills are off the chart, but that doesn't mean she'll make it. In fact, she may be too good at what she does. (Via Viz Media)


The Quintessential Quintuplets (Gotōbun no Hanayome)
Negi Haruba
Magazine: Weekly Shōnen Magazine (Kodansha)
Summary: One day, a poor high school second-year named Futaro Uesugi comes across a private tutoring gig with good pay. But his pupils are his classmates!! And they're quintuplets!! A-and they're all gorgeous girls, but they're also troublemakers who hate to study and are on the verge of flunking out! And his first task is simply gaining the sisters' trust?! Every day is a party! The curtain is rising on the Nakano quintuplets' quirky romantic comedy with five times the cute!! (Via Kodansha Comics)


To Your Eternity (Fumetsu no Anata e)
Yoshitoki Ōima
Magazine: Weekly Shōnen Magazine (Kodansha)
Summary: A new manga from the creator of the acclaimed A Silent Voice, featuring intimate, emotional drama and an epic story spanning time and space…
A lonely boy wandering the Arctic regions of North America meets a wolf, and the two become fast friends, depending on each other to survive the harsh environment. But the boy has a history, and the wolf is more than meets the eye as well… To Your Eternity is a totally unique and moving manga about death, life, reincarnation, and the nature of love. (Via Kodansha Comics)


Ao-chan Can't Study! (Midarana Ao-chan wa Benkyō ga Dekinai)
Ren Kawahara
Magazine: Shonen Magazine Edge (Kodansha)
Summary: When Ao was in kindergarten, she smiled ear-to-ear as she told her classmates how her father (a bestselling erotic author) chose her name: "A as in apple and O as in orgy." That day still haunts her ten years later as she studies with a single goal in mind: get into an elite university and achieve independence from her father once and for all. She has no youth to misspend and no time to think about boys until her classmate, "King Normie" Kijima, approaches her with a shocking confession of love. She tries to lose Kijima, but he just can't take a hint and as her mind runs wild with impure thoughts, she realizes her father has totally influenced her. (Via Kodansha Comics)

Best Shōjo Manga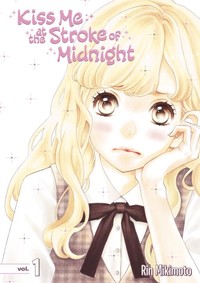 Kiss Me at the Stroke of Midnight (Gozen 0-ji, Kiss Shi ni Kite yo)
Rin Mikimoto
Magazine: Bessatsu Friend (Kodansha)
Summary: At school, Hinana is an honors student, respected by all her classmates. She's totally above things as juvenile as crushes and dating. Secretly, though, she has but one wish: To have a fairy-tale romance. One day, a super-hot celebrity named Kaede shows up at Hinana's high school to shoot a movie, and it becomes difficult to keep up her act. By pure chance—or y'know, fate!—Kaede reveals his own ridiculous personality to Hinana, and her ordinary life turns breathtakingly romantic! Or just really, really … weird?!
(Via Kodansha Comics)

Nagi no Oitoma (Nagi's Long Vacation)
Misato Konari
Magazine: Champion Tap! (Akita Shoten)
Summary: The story centers on Nagi Ōshima, a girl who is too conscious of everyone's mood and can't really get close to anyone. One day, she collapses from hyperventilation. After talking to her ex-boyfriend, she quits work, moves, and runs away from everything to start anew.


Perfect World
Rie Aruga
Magazine: Kiss (Kodansha)
Summary: 26-year-old Tsugumi Kawana reunites with her first crush from high school, Itsuki Ayukawa, at a get-together between an architecture firm and the interior design company she works at. He sends her heart aflutter, until she realizes he's now disabled, and in a wheelchair. At first she feels she couldn't date a guy in a wheelchair, but then her feelings begin to change … (Via Kodansha Comics)


Our Precious Conversations (Boku to Kimi no Taisetsu na Hanashi)
Robico
Magazine: Dessert (Kodansha)
Summary: Nozomi Aizawa has has kept her feelings for her schoolmate Azuma-kun a secret for quite a while, but the time has come for her to finally confess. His response, though, is far from ordinary! Led in circles by his hilarious tangents, these two awkward teenagers find themselves growing ever closer while muddling through misunderstandings and off-topic rants. When the airheaded stalker Aizawa-san finally connects with the petulant know-it-all Azuma-kun, the result is a romantic comedy worth talking about! (Via Kodansha Comics)


Best General Manga

What Did You Eat Yesterday? (Kinō Nani Tabeta?)
Fumi Yoshinaga
Magazine: Morning (Kodansha)
Summary: A hard-working, middle-aged gay couple in Tokyo come to enjoy the finer moments of life through food. After long days at work, either in the law firm or the hair salon, Shiro and Kenji will always have down time together by the dinner table, where they can discuss their troubles, hash out their feelings, and enjoy delicately prepared home-cooked meals! (Via Vertical)


Shōwa Tennō Monogatari (Showa Emperor Tale)
Junichi Nojo
Magazine: Big Comic Original (Shogakukan)
Summary: The manga is based on Kazutoshi Kandō's Shōwashi (History of the Showa Period), with a script by Issei Eifuku and editorial supervision by Shūji Shiwa. The biographical story centers on Emperor Hirohito, posthumously known as Emperor Shōwa, for whom Japan's Showa era (1926-1989) is named for.


The Blue Period.
Tsubasa Yamaguchi
Magazine: Afternoon (Kodansha)
Summary: The story centers on Yatora Yaguchi, who feels hollow and impatient despite his excellent grades and place on top of the school student caste. But when he sees a picture that captures his heart one day, he throws himself into the beautiful yet harsh world of art. With his wealth of knowledge, he plans to enter art school.


Watashi wa Dōka Shiteiru (There's Something Wrong With Us)
Arisa Natsumi
Magazine: Be-Love (Kodansha)
Summary: The manga centers on Nao and Tsubaki, who met when they were children when their mothers worked at a traditional Japanese confectionary shop. But due to a certain incident, they were separated. 15 years later, Nao and Tsubaki are each working at other Japanese confectionary stores, and are reunited.

In past years, Kodansha gave out a "Best Children's Manga" award as well, but starting in 2015 Kodansha has integrated the nominees for that category into the Best Shōnen Manga and Best Shōjo Manga categories instead.
Last year, Paru Itagaki's BEASTARS manga won the Best Shōnen Manga award and Bakka Okita's Tōmei na Yurikago (The Invisible Cradle) manga won the Best Shōjo Manga award. Yuki Ozawa's Sanju Mariko (Mariko at 80), and Saburō Megumi and Bin Kusamizu's Fragile - Byōrii Kishi Keiichirō no Shoken (Fragile - The Finds of Pathologist Keiichirō Kishi) manga, both won the Best General Manga award.
Source: Kodansha
---