MangaGamer Announces Release Date and Trial Version for Dengeki Stryker!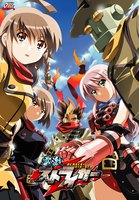 May 11th, 2012
--We at MangaGamer are proud to announce that Dengeki Stryker will be released on June 22nd, 2012! Pre-Orders are now open!
Nearly everyone shares certain memories. Memories of a time when we admired superheroes, those who fight for justice and defend the weak from evil. Memories of a time when we were weak, and couldn't protect the things important to us. Memories of a time when we longed to be the heroes we admired. Memories of promises we couldn't keep. Precious memories, every one of them. Memories which make us who we are today. The price young Yuuki Yamato must pay when he makes his wish to become the superhero he always longed to be: Dengeki Stryker!
What challenging perils await our bionic hero, Dengeki Stryker?! How far will the evil Balbora Empire go in their quest to conquer the peaceful nation of Japan?! Who will aid the mighty Dengeki Stryker in his struggles?! New Stryker Units?! Giant Robots?! Texan Ninjas?! You won't want to miss a moment in this exciting tale of charged action-packed battles, with animation directed by Watanabe "Nabeshin" Shinichi! Vocal Tracks by AiRi, Hashimoto Miyuki, and JAM Project's Maaaki Endoh! And even voice acting from Evangelion's Ogata Megumi!
www.youtube.com/watch?v=W254cJzE_IA
For every one of us who has ever admired a superhero, let this tale shine a light on those memories you may have lost and remind you how precious they truly are.
http://www.youtube.com/watch?v=5LGUxC8ZIFk
Play the trial and pre-order your copy now!
STORY
Yuuki Yamato has modeled his young life after the superheroes he loves. When his best friend Haruna is teased by bullies, he always tries to defend her -- but his life is not a comic book, and things never work out as planned.
One day, after yet another failure, Haruna tells Yamato that she is moving away. She asks him to come and see her off, but Yamato -- his pride still wounded -- cannot find the courage to face her. When Yamato is feeling his lowest, an old man appears before him. He is known as the Memory Collector, and he will grant one wish in exchange for a memory. Yamato makes his wish: to become Dengeki Stryker, his favorite comic book hero.
Years later, an army of cyborgs from the Balbora Empire appear in the city where Haruna now lives. With the police and the army powerless against the Empire's mechanical might, it falls to a single hero to stop them -- a hero who looks remarkably like Dengeki Stryker!
Dengeki Stryker
Manufacturer: OVERDRIVE
Genre: Adventure
Price: €34.95
OS: Windows XP(32bit), Windows Vista(32bit), Windows 7(32bit)
Text Language: English
Voice Language: Japanese
Age Rating: 18 and over
Release Date: June 22nd, 2012
ABOUT MANGAGAMER.COM
MangaGamer.com is the world's first legal download site for English translated Visual Novels. Since its launch in July 2008, it has offered services where fans can download and enjoy popular Visual Novels such as CIRCUS's Da Capo and OVERDRIVE's Kira Kira right from their home. Don't forget to visit us on Facebook and Twitter!
---
discuss this in the forum (3 posts)
|