All-Girl Japanese Punk Band the Akabane Vulgars Announces U.S. Tour
Bluesy-Punk Rock Power Trio Was A Hit At 2012 SXSW And Embarks On"Return Of The King Zero" National Tour Ahead Of Forthcoming U.S. Record Release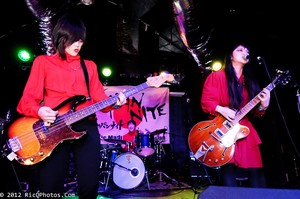 Seattle, WA, August 23, 2012
– The bluesy, Japanese all-girl power trio, The Akabane Vulgars On Strong Bypass, returns to take the U.S.A. by storm as they announce a new multi-city national tour kicking off tomorrow! Catch their songs and image at
www.akabane-vulgars.com
.
The Akabane Vulgars On Strong Bypass 2012 U.S. Tour, "Return of the King Zero," will take the band to 20 cities and formally kicks off on Saturday, August 25th with a performance at the 2012 J-Pop Summit Festival in San Francisco, following a warm-up gig the day before in Guala, CA at the Bones Roadhouse.
Date City Venue
AUG 24, 2012 Gualala, CA Bones Roadhouse
AUG 25, 2012 San Francisco, CA J-POP Summit Festival
AUG 26, 2012 San Francisco, CA Red Devil Lounge
AUG 27, 2012 Sacramento, CA Blue Lamp
AUG 29, 2012 Los Osos, CA Sweet Springs Saloon
AUG 30, 2012 Santa Barbara, CA Whiskey Richards
AUG 31, 2012 Los Angeles, CA The Redwood
SEP 02, 2012 San Diego, CA The Ruby Room
SEP 04, 2012 Las Vegas, NV The Beauty Bar
SEP 05, 2012 Reno, NV Jub Jub's Thirst Parlor
SEP 08, 2012 Portland, OR Slabtown
SEP 15, 2012 Seattle, WA Slim's Last Chance
SEP 18, 2012 Denver, CO Lion's Lair
SEP 19, 2012 Lincoln, NE Zoo Bar
SEP 22, 2012 St. Paul, MN Wild Times
SEP 23, 2012 Chicago, IL (Private Party)
SEP 24, 2012 Chicago, IL Double Door
SEP 27, 2012 Detroit, MI Corktown Tavern
SEP 29, 2012 New York, NY Lit Lounge
OCT 01, 2012 Brooklyn, NY Trash Bar

The Akabane Vulgars On Strong Bypass formed in 2005 and is composed of sisters Yumi Uchizono on guitar and vocals and Miki Uchizono on bass, along with drummer Kei Sofue. The band formed while the members were still in high school but the trio has gone on to enjoy a wide following in Japan with a unique brand of bluesy-rock vocals and soulful lyrics. The Akabane Vulgars is heavily influenced by Green Day, Joan Jett, The Beatles, Black Rebel Motorcycle Club, the Red Hot Chili Peppers, and Japanese groups such as Blankey Jet City and Thee Michelle Gun Elephant.
The Akabane Vulgars On Strong Bypass have released a self-produced CD, "The Rumps Smolder at the Gloom" as well as a 3-song EP, "We Need The Riot, Our Riot, Your Riot." The band is preparing to record and release their full length debut on a U.S.-based record label later this year.
"We're super excited to come back to America for this tour," says singer Yumi Uchizono. "Each of us in the band has grown up steeped in American music and rock and roll, and it's going to be so much fun to play for new audiences in these cities. We look forward to making as many new fans as we can!"
In 2011, The Akabane Vulgars On Strong Bypass was a stand-out during the Tokyo Boot Up, a three-day, multi-venue music event that bills itself as Tokyo's answer to SXSW or MIDEM. The band next made their way across the Pacific to take the stage at SXSW 2012 as a highlight of the Japan Nite Showcase in Austin. Returning home to Japan, The Akabane Vulgars on Strong Bypass quickly were invited back to the Tokyo Boot Up the following month. Now, with unfinished business in the United States, The Akabane Vulgars return to the U.S. for their most extensive tour yet. More information on the band and free web streams of select songs are available at:
www.akabane-vulgars.com
.
---
discuss this in the forum (3 posts)
|