House of Five Leaves Standard Edition Will Be Available on March 12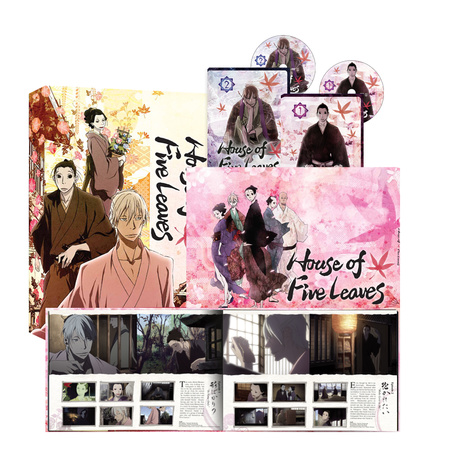 Santa Ana, CA (March 1, 2013) – NIS America announced today that the Standard Edition of House of Five Leaves Complete Series will be available at select online retailers on March 12, 2013, instead of the previously announced date of March 5, 2013. House of Five Leaves follows the story of Masanosuke — a shy former samurai and his new life as a bodyguard for the mysterious Yaichi. The Standard Edition will include all 12 episodes on 2 DVDs, along with a story guide leaflet and bonus features packed in one affordable package. It will be available for purchase at
RightStuf
,
The Anime Corner Store
,
Anime Pavilion
,
NISA Online Store
.
About the show:
The ronin, Masanosuke Akitsu, was working as a bodyguard in Edo, but due to his shy personality, he kept being let go from his bodyguard jobs, despite his magnificent sword skills. Unable to find new work, he wanders around town and meets a man, the playboy who calls himself Yaichi. Even though Yaichi and Masanosuke had just met for the first time, Yaichi treats Masanosuke to a meal and offers to hire him as a bodyguard. Despite the mysteries that surround Yaichi, Masanosuke takes the job. He soon finds out that Yaichi is the leader of a group of kidnappers who call themselves the "Five Leaves." Now Masanosuke is faced with the dilemma of whether to join the Five Leaves and share in the profits of kidnapping, or to resist becoming a criminal.
About the extras:
Bonus content: Clean OP/ED, Japanese trailer
Cast
Daisuke Namikawa
as Masanosuke Akitsu (kimi ni todoke -From Me to You-, PERSONA -trinity soul-, Bleach)
Takahiro Sakurai
as Yaichi (Code Geass, The Familiar of Zero, GUNxSWORD, Kyo kara Maoh!)
Produced by
Tomomi Mochizuki:
Director, Series Composition (Ranma ½, World God Only Knows, Urusei Yatsura)
Kazuto Nakazawa:
Character Design (Samurai Champloo, Tenchi Universe)
Manglobe Inc.:
Anime Production (Samurai Champloo, Ergo Proxy, World God Only Knows)
MSRP:
$39.99
RELEASE DATE:
March 12, 2013
TEM #:
HFL-DVD-US-SE
UPC:
813633012599
AGE RATING:
Teen
LENGTH:
Approx. 274 mins/12 eps
FORMAT:
2 DVD discs
LANGUAGE:
Japanese audio, English subtitles
ABOUT NIS AMERICA
In 2003, NIS America was established in Southern California to bring exciting, one-of-a-kind Japanese culture to North America. NIS America's team members devote themselves to the fans. Their respect for their fans is at the heart of everything they do. As an established entertainment publisher in the U.S., NIS America is committed to continuous growth and improvement. NIS America is a subsidiary of Nippon Ichi Software, Inc., a Japanese company famous for its unique line of strategy RPGs with titles such as Disgaea, Phantom Brave, and Makai Kingdom. NIS America has also become a publisher of Japanese anime titles, such as Toradora!, anohana: The Flower We Saw That Day and bunny drop.
---
this article has been modified since it was originally posted; see change history