×
remind me tomorrow
remind me next week
never remind me
Subscribe to the ANN Newsletter • Wake up every Sunday to a curated list of ANN's most interesting posts of the week.
read more
RIGHT TURN ONLY!!
Because You Kon Kon Kokon
by Carlo Santos,


I sprained my left foot at Comic-Con 2006. I sprained my right foot at Anime Expo 2007, and managed to contract a cold while I was at it. Both my feet survived Comic-Con 2007 unscathed, but I ended up catching another cold anyway from one of the 120,000 virus-carriers out there.
Conventions are literally making me sick.
---
ALIVE


Vol. 1
(by Tadashi Kawashima and Adachitoka, Del Rey, $10.95)
FROM THE BACK COVER:
"A strange virus is making its way around the globe, causing its victims to commit suicide—and becoming a lethal pandemic in less than a week. Now a group of Tokyo teens who have survived the outbreak are wondering why they are still alive."
EVIDENCE FOR:
Alive is the kind of story that operates on a slow burn—it starts with the simplest of high-school beginnings, starts to throw in a few shockers, and by the end of this volume, morphs into a full-blown crisis. In short, it's something gradual yet alluring, where enough clues are given out to maintain interest but enough details are hidden that it remains mysterious. Atmosphere is the other key to this series: even something as ordinary as heading up to the school roof (in Chapter 3) is filled with an unsettling dread, all because of how the panels are spaced and laid out. Of course, out-of-the-ordinary events achieve striking effects as well, with stark blood splatters and dismembered heads. No big shock lines, no googly Kazuo Umezu faces, just ... death. Everywhere. Credit goes to artist Adachitoka for making these simple layouts work; there are no splashy or confusing panels to be found anywhere, just a straightforward style that pulls you, deeper and deeper, into a truly disturbing story.
EVIDENCE AGAINST:
It's a promising series, but the first volume fails to deliver on any of the promises so far. This one is all about setting up the mysteries for later, and the plot—by nature of its slow, gradual effect—is yet to reach full stride. In fact, it hasn't even reached a mild trot yet; instead, the story stumbles awkwardly between high school life and the horrors of the incoming virus. Along with that disjointed pace comes a cast of irritating, unappealing characters. Which would
you
find more annoying—Hirose, who's a wimpy weed that can't fight back, or Taisuke, who keeps standing up for him anyway even though he loses every time? The most perceptive readers, however, will soon figure out what's really wrong with Alive: it feels way too much like Parasyte, right down to the opening pages (mysterious creatures approaching Earth, anyone?), except that Parasyte does it better. And that could be the one thing that'll keep it from becoming a hit.
FINAL VERDICT:
This looks like one of those scenarios where it does, indeed, get better, but the first volume's disjointed setup makes it not much more than a
B-
.
---
KON KON KOKON


Vol. 1
(by Koge-Donbo, Broccoli, $9.99)
FROM THE BACK COVER:
"Ren just wants to be one of the cool kids, but it doesn't help that secretly he's a nerdy monster fanatic. That is, until a young girl named Kokon shows up. She claims to be a fox that he had helped years ago and now she wants to return the favor. With the fox-girl Kokon by his side, will Ren be able to become the most popular kid in school?"
EVIDENCE FOR:
People like to talk about a series getting better, but it's something special when an artist as a whole gets better. Kon Kon Kokon may be Koge-Donbo's best yet, combining her love of the supercute with rapid-fire humor and a strong grounding in Japanese folklore. (Heck, it even borrows a couple of characters from Kamichama Karin for good measure.) Ren's "closeted yokai-otaku" nature is comical enough in itself, but with the actual spirits moving into his house, the story becomes a goldmine for funny and embarrassing situations. Get the characters together and watch the comedy fly—there's a gag about the Umibozu (sea yokai) that's surprisingly off-color, and overall it's about wringing as much slapstick from Ren's daily life as possible. While the art is still markedly cutesy and simplified, there's a new boldness of line that wasn't in Koge-Donbo's previous works, and the layouts are cleaner and smoother than they've ever been. More than just an illustrator and character designer, she's now fully arrived as a fun, engaging visual storyteller.
EVIDENCE AGAINST:
Amusing as it may be, this story is still candypop fluff when it comes to depth, and even veers dangerously into mindless-harem territory with all those cute girly yokai showing up. (Perhaps the only thing saving it from becoming
that
kind of series is the fact that it's hard to find any fanserviceable elements among characters that look like they're six...) It pretty much locks itself into episodic territory early on, with Ren getting into various situational scrapes with Kokon and friends, and the humor, fast-paced as it is, is still fairly predictable. Every gag basically boils down to Ren's conflicted feelings about wanting to look cool and aloof while at the same time embracing his inner yokai-otaku, and the girls tagging along saying "I must repay him for his kindness!" Imagine this for about 200 pages and you can see where it might get boring.
FINAL VERDICT:
Not the most fulfilling story, but the extensive use of folklore, the quick humor, and the energetic art lift it up to a
B+
.
---
ME AND MY BROTHERS


Vol. 1
(by Hari Tokeino, Tokyopop, $9.99)
FROM THE BACK COVER:
"When Sakura, a fourteen-year-old orphaned girl, discovers she has four half-brothers, her world is turned upside down as they're all forced to live under one roof ... From international manga-ka Hari Tokeino comes a manga series that shows you can't choose your family—even though sometimes you might want to!"
EVIDENCE FOR:
This series is quick to jump into the family-comedy setup—it's barely page 10 and Sakura's already met her four (remarkably attractive) half-brothers—and much of the fun comes from getting to know the characters. Eldest brother Masashi, with his effeminate nature and overprotective ways, is easily the most amusing of the lot (think Tamaki from Ouran High School Host Club, except with more cross-dressing). Yet he's also the character with the most depth so far; a middle chapter concerning the brothers' past contains some surprising emotional revelations. The other boys do get their personalities fleshed out in due time; in fact, one of the best things about the series is that it's easy and fun to tell the characters apart. They're all distinctive in terms of both personality and looks, and a cute-but-stylish aesthetic governs the entire work. Look to the hot springs chapter in particular for a vibrant study in backgrounds—Tokeino's penwork on trees and bushes really helps to set the atmosphere for an idyllic country resort.
EVIDENCE AGAINST:
Entertaining as the characters may be, they never get into a comedic groove: most everything rides on one-note jokes about Masashi's penchant for inappropriate behavior. It's one thing to set up a number of fun personalities, but if they can't play off of each other, then the potential is lost. Also, it should come as no surprise that Sakura is the weakest character of all, serving as little more than a stand-in for the target reader, who might also imagine herself with a live-in harem of four hot guys. Ultimately, the plot never really gets anywhere—sure, there are a couple of dramatic moments, but there's no strong direction to the story otherwise. Cluttered dialogue also makes this a chore to read, with tiny marginal utterances just about everywhere. Look, people, if you've got something to say, just say it in the speech bubbles, that's what they're for! Instead, everyone's muttering things off to the side, adding to the comedy (perhaps) but detracting from the story.
FINAL VERDICT:
While the intentions are good, the execution is lacking, so this lightweight bishounen parade will have to settle for a
D+
.
---
PEACE MAKER


Vol. 1
(by Nanae Chrono, Tokyopop, $9.99)
FROM THE BACK COVER:
"When childhood innocence gives way to a blinding thirst for revenge, is gratifying bloodlust worth the price of one's humanity?
Tetsunosuke and Tatsunosuke are the sons of a diplomat who sought to bring peace and prosperity to Japan during the early Meiji Restoration. But when their parents are murdered before their very eyes, Tetsu seeks to join the Shinsengumi, the unofficial police who are capable of the same brutality as his parents' murderers. Wading through a sea of espionage, deception and bloodshed, the young boy must choose: should he take a step on the path to becoming a demon ... or give up his rage and transform into the ultimate Peacemaker?"
EVIDENCE FOR:
Here's the latest in the bungled-by-ADV-relicensed-by-Tokyopop wave, and it's a lively combination of coming-of-age and period piece. The story shines most in the middle chapters, where we learn what drives Tetsu's vengeful heart, and soon after, Tetsu himself learns the bloody harshness of Shinsengumi life. It's in these moments, more than any other so far, that we really see the main character standing on the boundary between a boy and a man. Fortunately there's also plenty of comedy and action to offset the drama; Tetsu and Tatsu's first encounter with swordsman Okita Souji is predictable but amusing, and even Tetsu's first assignment—as vice-commander Hijikata's pageboy—is played mostly for laughs. On the action side, the many scenes of swordplay get by on sheer energy alone. Certainly, with Chrono's art style, energy is the first thing that comes to mind: dense lines and dynamic angles make the Meiji period jump off the page in a way that few other historical series could hope to emulate.
EVIDENCE AGAINST:
Just when the series starts getting good, with Tetsu learning what it takes to "become a demon," the story inexplicably falls flat and becomes this episodic mush where the Shinsengumi go on assignment. Granted, it's only a couple of chapters and it's only one storyline, but it's a big drop from "teenage boy coming to terms with violent, adult world" to "guys hanging out in the streets, waiting to pick a fight." Why not focus more on the truly interesting part of the story—Tetsu's coming of age and his brotherly relationship with Tatsu? And speaking of picking fights, the artwork sometimes gets too caught up in its own energy, littering the pages with lines and blood splatters that make no sense. It wouldn't hurt to slow down and show what's actually happening—it's hard to get a feel for 19th-century weapons technique when everything's a blur.
FINAL VERDICT:
The middle of this volume shows what the series is capable of, but it drops the ball a couple of chapters later, resorting to mindless action that results in a
B-
.
---
VENUS VERSUS VIRUS


Vol. 1
(by Atsushi Suzumi, Seven Seas, $9.99)
FROM THE BACK COVER:
"Sumire Takahana is a seemingly normal school girl cursed with the ability to see malevolent ghosts known as 'Viruses.' Her life hits a crossroads after a run-in with a Gothic Lolita-clad monster killer for hire named Lucia Nahashi. Not content to stay on the sidelines while Viruses prey on the weak, Sumire decides to join forces with the mysterious eyepatch-wearing Lucia to hunt down Viruses before they can hurt anyone else."
EVIDENCE FOR:
For a series that's been tagged as "Bleach with yuri," it definitely gets the Bleachness right—every page seems to explode with sharp lines, dynamic poses, and a rapid pace that moves irrepressibly from fight scene to fight scene. And lying underneath all that is a basic, easy-to-understand premise: good guys vs. bad spirits, exorcising them with a specialized array of weapons. Some supernatural tales try to act mysterious and just end up confusing the hell out of everyone; this one gets right to the point and lays down the ground rules about Viruses, vaccines, antiviruses, and other medically named aspects of the supernatural. The other key catalyst in the story is the personality contrast between Lucia and Sumire—they play off each other wonderfully as the level-headed gunslinger and the trembling scaredy-cat. More than just a ghostbusting duo, they trade some pretty sharp lines of dialogue as Lucia revels in her action-heroine role and Sumire comes to grips with her hidden powers.
EVIDENCE AGAINST:
Let's not kid ourselves here: Venus Versus Virus is absolutely relentless at piling on the clichés. The whole steaming pile of generic starts with the main character, who of course is naturally gifted with spirit detection, spirit attraction, and (when triggered accordingly) spirit extermination. And she doesn't quite have the hang of it yet, so she has to hone her skills. Are we all yawning yet? Don't forget the use of a special gun that shoots magical spirit bullets, and the enchanted jewelry that can amplify or reduce spirit presence. Worse yet, this is all put to use in an episodic, spirit-hunting plotline, which does little to differentiate itself from the 3,487 other episodic, spirit-hunting plotlines. Perhaps these plots lack substance because of the fast pace that leaves little room to build story or character—instead, people just charge into everything and fight, fight, fight. It's also hard to get excited about the character and costume designs, which are drawn well enough but lack the creative spark to make them stand out. Oh, and who said there was going to be yuri content? There's barely even hints in this volume. LIARS.
FINAL VERDICT:
It's hard to see what makes this series "good"; while it's got enough pop to be entertaining, there's nothing that really stands out, placing it firmly at
C
.
---

ALICE IN WONDERLAND: PICTURE BOOK

(by Sakura Kinoshita, Gentosha, ¥1900)
FROM THE BACK COVER:
"The lovely young girl Alice gets lost, meets various strange characters, has nonsense conversations that go nowhere, and finds herself in a world full of mishaps!"
EVIDENCE FOR:
Sometimes there's the feeling, with Detective Loki Ragnarok and Tactics, that Sakura Kinoshita has to hold herself back because those are
serious
stories with
serious
characters. Not so in Alice in Wonderland, where Kinoshita lets it rip with full-color wackiness, as if Lewis Carroll had been born Japanese and given a set of Copics. Alice goes Sweet Lolita and changes outfits every chapter; classic creatures like the White Rabbit and the Mock Turtle get the animal mascot treatment; and of course, every moment of shock and silliness is accompanied by a lapse into super-deformed style. Tenniel's illustrations and Disney's designs may be the most famous renditions of Wonderland, but Kinoshita's version has a joyful spark all its own: supercute characters, vivid colors, and clean, straightforward layouts. Best of all, it stays true to the story and doesn't go haywire like that stupid CLAMP thing. This slim one-shot volume is packaged as a premium hardcover artbook, but it's clearly earned every yen of that ¥1900 price tag.
EVIDENCE AGAINST:
With Carroll's classic tale laid out in comic format, the flaws of the story become much more apparent. What works as a lilting English fairy tale comes out as too jerky and rapid-fire in the "cinematic" style of manga. Chapters and scenes whiz right by, often ending abruptly; transitions might as well be nonexistent as Alice's wanderings are transcribed word-for-word from the book. Rabbit's house, caterpillar, tea party, croquet—it's all a blur! In Kinoshita's attempt to play up the cute factor, much of the story's deeper layers also go missing: the sneaky satire of Victorian culture has been wiped off the map, and the puns that worked in English obviously fail to translate. (Just imagine, the Mock Turtle's story robbed of its language-warping glory...) For all its cheerful artwork, this volume is clearly just a recitation of the original.
FINAL VERDICT:
OFF WITH HER HEA—I mean, look, any fan of Sakura Kinoshita or Alice in Wonderland or illustrated fairy tales has got to check this out. It's pure joy in a book.
---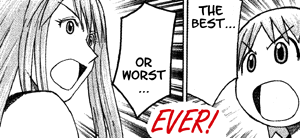 It had to happen eventually. This week's
Worst Manga I've Ever Read
is, in fact, a manhwa:
DEATH JAM

(by Jeon Sang Young, Tokyopop, $9.99 ea.)
One does not read the first volume of Death Jam. One
survives
the first volume of Death Jam, a brain-killing morass that makes no damn sense. See, it's one of those apocalyptic future things, where society has gone totally down the hole, and into this violent Mad-Max-meets-Grand-Theft-Auto world steps a tough guy named Muchaca Smooth. (I swear I am not making this up. At this point I'm working from the official plot synopsis.) Not surprisingly, Smooth sets out on a mission to kill some other fella, because this is what tough guys do, and meanwhile they talk about hip-hop and stuff, and some kid throws a fit at his parents because there's a video game messing with his brain, and the plot doesn't make any more sense than it did at the beginning.
See, this is what happens when people think they have an idea but have none of the skill to pull it off. It's a garbage heap of badly drawn "hip-hop art style" thrown on some hard-boiled genre tropes like grim-faced hitmen, dystopian cities and misanthropic antagonists. It might even be okay if the events of the story followed each other in sequence, but instead it's just sketch after scribbly sketch of these dudes trying to be as "gangsta" as possible, shooting and killing and swearing against a messy background of grays and blacks that are, I think, supposed to signify a gritty post-industrial city. After a while, it's hard to even tell who's who in the story, because everyone is so badly drawn and none of the chapters connect to each other. So let this be a lesson to all creators: just because you have a style, or an idea, and just because you have the means to make a comic, doesn't mean you
should
.
---
discuss this in the forum (19 posts)
|