×
remind me tomorrow
remind me next week
never remind me
Subscribe to the ANN Newsletter • Wake up every Sunday to a curated list of ANN's most interesting posts of the week.
read more
Shelf Life
The Gift Guru
by Erin Finnegan,

December 19th just happens to be Amazon's last day you can order something standard shipping in the U.S. and get it by Christmas Day.
Looking back at my 2011 Shelf Worthy tags, it occurs to me that this has been a great year for anime fans! There have been a lot of good new series to be excited about, nice releases of classic anime to put stuff back in print, and easily recommendable titles for would-be fans, beginner fans, and/or the anime layman. I have provided below a spiffy holiday gift guide for last-minute shopping, divided by the people on your list.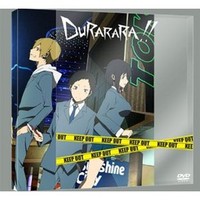 The Adult Swim Fan: Durarara!! Parts 1-3 DVD
The Adult Swim fan in your life wants, no, needs Durarara!!. (This reminds me, I still haven't picked up Part 3…) It's been airing on Adult Swim for a while, but the DVDs came out in three awkwardly expensive sets. Maybe your friend has caught a couple episodes on the air. Maybe they thought it was OK, and maybe it's time they finished the show! You could even pick up a this Durarara!! bundle, for your Durarara!!-skeptic friend who saw only one or two episodes and "gave up". The first two episodes weren't that great, so you've got to make sure they watch the rest, right?
After all, who doesn't like urban magical realism? Somewhere in Ikebukuro a female headless horseman is sending SMS messages. Everyone is secretly an online gang leader, and that girl you like just might be possessed.
Alternately, you could get Durarara!! for the Baccano! fan in your life who hasn't seen it yet. (Or vice versa).

The College Anime Fan: Revolutionary Girl Utena - The Student Council Saga [Limited Edition] (DVD 1)
I'm going on my second year working at a university in the animation division of the film department, and unsurprisingly, a lot of the students I work with love anime. When The Apocalypse Saga box set arrived at my office the other day, complete with a rose seal ring, I was shocked, shocked to find that not one of my student workers had seen Revolutionary Girl Utena! I mean, they are probably the wrong age to have seen it, but they did grow up watching Sailor Moon (also directed by Kunihiko Ikuhara).
I recommend that busy film students begin by watching the Utena movie (currently out of print, but soon to be rereleased by TRSI), but I think the first season box set is a fine gift for any anime fan over the age of 14. The original TV series is so budget-friendly that I think it could be instructional for young filmmakers on student budgets. Hide those mouth flaps! Pan over well-designed backgrounds! Re-use footage, but use different music every time! In other series, these money-saving tricks can be tiresome, but Utena has so much content, so much meaty substance, that the means justifies the end every single time.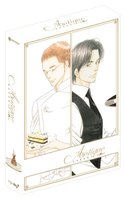 The Fujoshi or the Foodie: Antique Bakery
If there is a fujoshi in your life who hasn't seen Antique Bakery already, or indeed, perhaps a burgeoning young foodie who missed the Antique Bakery manga craze a few years ago? If so, you should give him or her this series. I field-tested this on an actual fujoshi back in April, and she was so delighted that she ordered her own copy before leaving my apartment (after just three episodes!). I used to make more of a big deal about how this isn't technically yaoi or BL, as it didn't run in that kind of magazine in Japan (Wings is a shojo magazine). I even made a comic about Flower of Life, one of Fumi Yoshinaga's other titles, to try and prove it wasn't yaoi. Since then, I've retreated on my position. I basically can't get guys to watch this unless they're foodies. At least the anime series is a good way to introduce Yoshinaga's manga to people. I'm particularly fond of Not Love but Delicious Food.


Neckbeards (and Ladies): Dirty Pair - Collection 1 and 2 DVD
Zac often talks about "neck beard" titles on the ANNCast, and it's almost inevitably some title I like, even though I am incapable of growing a beard, (and can't use Linux proficiently). Maybe it's because I'm over thirty. In any case, this has been a great year for throwback/retro/nostalgic anime re-released on DVD. The Eastern Star re-release of Project A-ko and Fist of the North Star, as well as Discotek Media's releases of Galaxy Express 999 and Adieu Galaxy Express 999 have put smiles on the faces of my "old-timer" friends, (note: we are not that old).
As a sci-fi fan and someone who likes 80's cell animation, I was very excited about Right Stuf's re-release of the Dirty Pair TV series. Watching it with subs instead of raw on a VHS (or indeed laserdisc) was a bit underwhelming in the dialog department. Why did I think the plot was somehow "deeper" when I saw this raw? It's clearly a show bent on fun, and not the super-serious implications of mass property damage and collateral loss of life. Nevertheless, I had a good time watching these sets. The series is very episodic and therefore low-commitment for a busy office lady like me.
I utterly failed to mention the full-color booklet that comes with collection one in my review of collection one, it contains two interviews with Haruka Takachiho. I would totally ask for these for Christmas if I didn't already own them.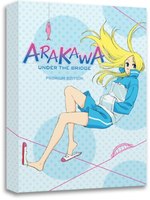 Your Crush: Arakawa Under the Bridge Season 1 DVD/Blu-ray Premium Edition (Sub.DVD Box 1)
Maybe you'd be coming on too strong if you got this $50+ box set for an acquaintance you've had your eye on. Maybe you want to save this for the third or fourth date, once you've already agreed to exchange holiday gifts.
I think any NIS America boxset would make a great gift, they come with sweet art books and oversized boxes. I think Arakawa Under the Bridge is a particularly well-suited gift for couples, since it is about a couple.
That said, when it comes to mainstream American cinema, I don't normally care for "chick flicks" or romantic comedies. Arakawa is technically a romantic comedy, but it's so weird it flies under that radar. Nino claims she's literally from Venus and eats raw fish (like Gollum). Ko is a fish-out-of-water in Nino's strange community of homeless riverside dwellers.
It's romantic without being sappy, and in case you're not sure about your relationship yet, it doesn't send a very committal message. It's certainly not as forward as say, hentai. Plus the artwork is fresh and appealing. The box even includes both BD's and DVDs in case you, the giver, are not sure if the recipient has a Blu-ray player yet. The only downside is the lack of a dub.

History Nerd Significant Other: Night Raid 1931 - Complete Collection (DVD)
Sure, there's a lot of history in Hetalia, but if you're not in the mood for comedy and are more an action/suspense fan, I'd put my money on Night Raid 1931. I think it might even be a tad underappreciated (I'm not sure why).
Night Raid 1931 is action-packed historical fiction with some superpowers and some romance, but not enough to set off my anti-superhero or anti-chick flick senses. I learned something about history while watching it. I cared about the characters. I loved the dub (especially Greg Ayres as Aoi). I watched this with my history-loving, international-politics-obsessed significant other, and it was a surprise hit.
Did I mention there were cute guys in this? I couldn't really ask for more in a TV show. I think your significant other might like it as much as mine did!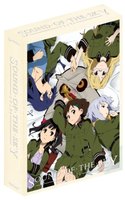 One of "Those Shows" for People Who Aren't Fans of "That Kind of Show": Sound of the Sky (Sub. DVD)
Let's just say I am not a fan of "that kind" of show, but I'm not closed minded; I like K-ON! well enough, even if I was bored to tears by Hidamari Sketch. Sound of the Sky was the first time I could get 100% behind "that kind" of show (with the possible of exception of episode eight where Kanata has to pee).
Sometime after the near-apocalypse in a small town in rural Italy, a platoon of cute girls works together in an abandoned school to restore lost technology. It's a bittersweet story about a collapsed civilization and young ladies with PTSD, some of whom happen to play the trumpet. I laughed; heck, I almost cried. This is a great show to sway your friend who says they hate "that kind" of show over to your position.
Sure, the ending falters a bit, but TSRI always includes nice booklets and as many extras as possible, which makes for an ideal gift.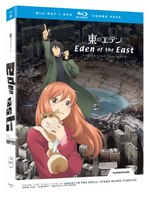 The Anime Newbie or the Non-Fan: Eden of the East - The Complete Series (Blu-Ray + DVD)
I've recommended the same handful of titles to anime newbies and/or coworkers who don't know much about anime all year long: Summer Wars, The Girl Who Leapt Through Time, and Eden of the East. The first two are Non-committal movies, but when it comes to TV series, you can't go wrong with Eden of the East.
Bamboo reviewed it here, and she's also covered both movies. I ended up watching the movies for Otaku USA, but I had to watch the series first (obviously), to get up to speed. Honestly I can't recommend the films, but the TV series is one my favorite shows from the past few years. There's a reason Bamboo nearly called it the series of the year in 2010. The story sucked me in from the first five minutes, and all the episodes ended on cliffhangers. I ended up unintentionally marathon-ing nine episodes on a Friday night and watched the final two over breakfast the next morning.
Admittedly, the BD/DVD combo pack comes out on December 27th, but you could pick up the BD or DVDs separately in their older, 2010 boxes on the cheap. The dual pack could be an ideal belated gift, or if someone gave you a gift you weren't expecting and you needed to return the favor, you could pick up this series for just about anyone. I'm seriously thinking about stocking extra copies as loaners.
I've heard some fans nitpick over this or that about the TV series; not everything is explained, yadda yadda. Don't believe the haters. This show is great. Just stop watching whenever you happen to feel it's over.
Well, here's hoping all your packages arrive on time and that you have a great holiday! I'll see you next week (or perhaps in two weeks) with DBZ 1.1.
---
discuss this in the forum (46 posts)
|
this article has been modified since it was originally posted; see change history