×
remind me tomorrow
remind me next week
never remind me
Subscribe to the ANN Newsletter • Wake up every Sunday to a curated list of ANN's most interesting posts of the week.
read more
Shelf Life
Bod Squad
by Erin Finnegan,


Genericon
I went to several great panels run by the "Con Artists" group. I particularly enjoyed the "Bad Anime, Burn on Sight!" panel. One panelist named
Sue
gave a presentation on her method of psychological escape from bad anime series, using detailed charts. She outlined how she could save sanity by attaching to one good character, or a good plotline. I immediately saw the brilliance of this method and started thinking about ways to use it as I watch titles for Shelf Life (it was too late for this week's titles, however).
Sue came up to me after my "Unusual Manga Genres" panel and said she'd liked it, and she reads Shelf Life every week! I was thrilled because how awesome is it to find out a cool person you just met already knows who you are?! That was my favorite Genericon moment. I mean, I also shared the stage with Johnny Yong Bosch at opening ceremonies, but he didn't know who I was beforehand (I think, based on how he read my bio in the con book in front of me).
Thumbs up to Genericon! And thumbs partway up to Rosario + Vampire Capu2, which is a huge improvement over season one.
If Capu2 was a pleasant surprise, I was even more pleasantly surprised by First Squad.
First Squad was something cool I'd never heard of, but Bodacious Space Pirates was something cool I had already heard a lot about.
That's all for this week. For next week I've started watching Hetalia: World Series Season 3.

This week's shelves are from Barbara:
"Hello, Barbara here with my shelves. As you can see, I still have a little room to breathe, but with my spending habits these will soon be filled. I have a...strange cataloging system. DVDs go box sets first, then "regular" collections, all done alphabetically. I just pile anime movies on the box sets. Manga I do by publisher with ongoing series first, then random volumes/uncompleted/completed. I've been collecting anime since the beginning of 2011, with manga being more recent. My prized pieces are the FMA tins, followed closely by my Tiger and Bunny figures. Thanks for looking! "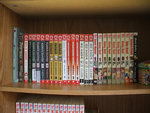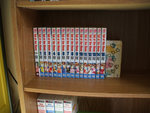 Nice shelves!
Want to show off your stuff? Send your jpgs to [email protected] Thanks!
---
discuss this in the forum (58 posts)
|
this article has been modified since it was originally posted; see change history