×
remind me tomorrow
remind me next week
never remind me
Subscribe to the ANN Newsletter • Wake up every Sunday to a curated list of ANN's most interesting posts of the week.
read more
Shelf Life
Edo Eights and Heartbreak
by Erin Finnegan,


The Illusionist
and Evangelion 2.0 and both of them were great. I suppose you couldn't find two more different 2D animated films, but both are surprisingly uplifting films about sad people that are gorgeously well animated, starring fascinating characters. I highly recommend them both.
I also watched a bunch of anime for Shelf Life, starting with Trigun.
After the super-cool guitar riffs and Vash's manly friendship with fellow gunfighter Wolfwood, I thought I ought to watch a much girlier show. It was girly in the worst way possible.
I purposefully watched a show I knew I'd like to counterbalance Girls Bravo.
Also immediately after finishing this column I'm setting up the PS3 I got for Christmas so I can finally watch Blu-rays at home. If you'd like to recommend some games, feel free (although I've heard the PS3 has no game). I'm basically a non-gamer who enjoys button mashing 4-person fighters, Rock Band, Wii Bowling, and games that don't take 60 hours to play or take more than five minutes to learn (excluding mahjong).

This week's shelves are from Jesse:
"Hiya, my name is Jesse and i started collecting anime and manga back in September of 2008, when my friends invited me to join them at an anime convention. Since then, ive put together a collection of around 250 DVD's and 60 manga. Since i live in Australia rather than America, my collection is a mixture of R1 and R4 releases (and a few from japan), which is why some things make look different to the American releases.
When i moved house recently, i finally managed to get an actual shelf for my collection. I made a point of getting one with plenty of space between the shelves so i could fit my NIS America premium boxes :P. "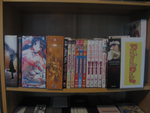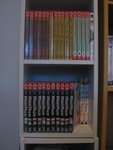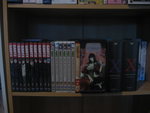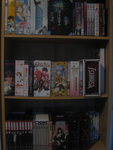 Very nice!
Want to show off your stuff? Send your jpgs to shelflife at animenewsnetwork dot com. Thanks!
---
discuss this in the forum (72 posts)
|