Shelf Life
You Da Bomb
by Bamboo Dong,

Alright, welcome to Shelf Life.
Likewise, I enjoyed the next series as well, which also does a good job of writing itself out of an initial vacuum of terrible characters.

This week's shelves are from Joel, who wrote the following:
" I've been fan of various anime all my life, but I didn't begin collecting anime until 2007. I've built all the shelving in these pics (and I can see all my mistakes) but it's still not finished yet. I'm hoping to install some barn door rails in front of the current shelving and hang some more shelves from them so I can have all of my anime in one room. Right now, my anime books and my NISA series are in the closet until I can make some more room. It's a sad story, I know."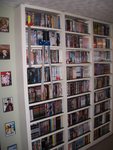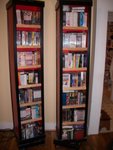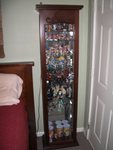 That is a lot!
Want to show off your shelves? Send your jpgs to [email protected] Thanks!
---
discuss this in the forum (31 posts)
|