This Week in Games
The Resurrection of Onimusha
by Heidi Kemps,
It's been an interesting week, that's for sure! We've seen a steady flow of interesting news tidbits and surprise announcements… and that's all before CRX and PAX West hit this weekend! So let's not waste too much time – we've got a lot to talk about!
ONIMUSHA IS BACK TO KICK NOBUNAGA'S DEMONIC ASS
Looks like the beloved HD Remaster gravy train has picked up a new passenger – the Onimusha franchise!
Alas, it's only the first game – it would have been nice to have a remastered compilation with 2, 3, Dawn of Dreams, and that weird Smash Bros.clone everyone forgets existed, but we can't be too down on it. It's nice that Capcom remembers that Onimusha exists, and now it's fueled a lot of speculation as to whether or not a new entry's in the works.
While Onimusha's getting the usual spate of HD remaster upgrades: improved graphic fidelity, widescreen support, an option for revamped controls – it's also getting a completely new soundtrack. No, the old soundtrack is probably not going to be an option. The reason? Because the composer, Mamoru Samuragochi, turned out to be a hack and a fraud. Seriously, read those articles – if you think a certain ex-games writer got away with passing off others' work as his own for too long, he's got nothing on Samuragochi.
MORE LANGRISSER 1 & 2 DETAILS REVEALED
As was promised last week, Kadokawa and Chara-Ani held an event to give more details on their upcoming Langrisser 1 & 2 remake. It's due out in Japan this February, and there's a whole lot of new stuff being added.
As expected, there's been a visual upgrade to nice, crisp HD visuals. Full voice acting is also being added for both games, along with additional characters and scenarios. Interestingly, Langrisser 1 will now have branching paths and multiple endings like Langrisser 2 did. One of the new characters, Betty, was also revealed.

And hey, remember last week when I said it looked like Satoshi Urushihara wouldn't be involved? Well, I was partially wrong about that. First-edition copies will get a free DLC "classic mode" that allows players to see Urushihara's old illustrations in-game -- he's even drawn his take on the new character for use in this mode. He'll also be providing a special illustration for the game's limited-edition package. So no, he's not super involved with it, but bringing him back for a few bits of art is still a lot more effort than I expected Kadokawa to go to, so kudos to them.
STREETS OF RAGE 4 IS FINALLY, FINALLY REAL
It's had some high-profile false starts over the years, but somehow, through some miracle, Streets of Rage 4 has been willed into existence by the hopes and dreams of Sega kids the world over.
Yes, it's another DotEmu-published game, and I made my thoughts on DotEmu clear last week… but I have a fair bit more faith in this turning out well than I do with Windjammers 2. One of the collaborators on development is LizardCube, who absolutely knocked it out of the park with the remake of Wonderboy: The Dragon's Trap last year, so they know what they're doing.
The other co-developer, Guard Crush Games… well, I'm not sure that they make the best judgement calls on game content, so their presence is a bit less encouraging. Still, I have a distinctly good feeling about this, and I look forward as to how it shapes up.
And now the question everyone is asking: Is Yuzo Koshiro involved? Well, we don't know yet. Yuzo himself tweeted about it, and what I'm reading into his words is "contract negotiations are ongoing." We'll see how that goes.
FIGHTING GAME NEWS ROUNDUP: MORE CHARACTER CAMEOS AND A MILLION ARTHURS COME HOME
Y'know, Soul Calibur guest characters always seem a bit out of left field, but Rasputin from World Heroes is an awfully bold pick!
… okay, it's not actually Rasputin, but the resemblance is still a bit uncanny.
A little while back, Square-Enix dropped Million Arthur: Arcana Blood into Japanese arcades. It's a spinoff of their Million Arthur online card battle game by the dev team behind Arcana Heart, and while I haven't had a chance to play it much, it seems like a pretty solid title. At an event this weekend, a bunch of announcements related to the game were dropped. First, and most importantly, Arcana Blood's getting a PS4 port, which will help put it in reach of more players (as in "everyone outside of Japan").
Secondly, there are a few guest characters coming to the game. You might have already heard that Reisz and Hawkeye from Seiken Densetsu 3 were a part of the game's cast as a playable character and assist, respectively, but now more familiar faces are joining the line-up. One is Akira Oono from High Score Girl… who is technically a Square-Enix character, as they publish the manga she's in.

Another familiar addition to the cast is… Iori Yagami. ...Wait, what?
And Thief Arthur from Million Arthur is going to be in SNK Heroines. That's... um, unexpected.
Hey, remember when SNK was really pissy about Square-Enix using SNK games in the High Score Girl manga and forced it into a legal hiatus? Well, now the two companies are BFFs. Weird how that works.
NEWSBITES:
Pre-registration for Yakuza Online has opened. If you feel like stumbling through a complex online game in Japanese, knock yourself out… though if the tenacious PSO2 community is anything to go by, they'll be whipping up English guides ASAP.
Sega's also got an online survey where it looks like they're soliciting feedback on potential remasters of the various Yakuza spinoff games. Fill it out if you're keen on getting those.
Sega trademarked a thing called Judge Eyes: Shinigami no Yuigon. We'll probably learn more about what this is at Tokyo Game Show.
Perhaps related to the above, Yakuza producer Toshihiro Nagoshi is also teasing "something different" to be revealed next month. HMMMM!

The Last Remnant, a highly underappreciated PC RPG by Square-Enix, is getting delisted from various digital retailers on Sept. 4. Grab it now while you still can!
The Shin Megami Tensei V producer made a really noncommittal comment about wanting to do a Nocturne Will it happen? Who knows!
Nippon Ichi announced Lapis Re Abyss, a new action-RPG for Switch and PS4. Details are scarce at the moment, but more information is forthcoming early next month.
In a surprise to no one, Falcom's making another Ys game that takes place after Ys VIII. What wacky hijinks will Adol and Dogi get up to this time?
NEW RELEASES
OUT NOW: Yakuza Kiwami 2 (PS4)
Now that's what I call a launch trailer!
Anyhow, Yakuza Kiwami 2 is the enhanced re-release of Yakuza 2, which graced the Playstation 2 right at the end of its life. It's kind of a small miracle the original game released in English at all, really, but it's long been a favorite among series fans. Kiryu's world expands as he ventures to Osaka and Sotenbori to deal with a new rival from the Omi Alliance family. But the main selling point here is more Majima, and boy does it ever deliver on that front: he's got his own scenario that's completely new to this remake. Advice to the Yakuza dev team: always more Majima.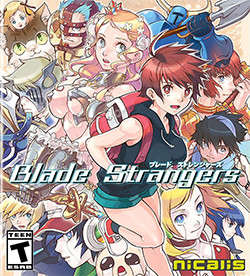 BLADE STRANGERS (PS4, PC, Switch)
Blade Strangers is one of those games that really shouldn't exist, but it does, and that fact alone is enough to sell people on it. I mean, did anyone wake up one morning and say, "huh, I'd really like a fighting game with characters from Umihara Kawase, Code of Princess, Cave Story, Shovel Knight, Binding of Isaac, and Azure Striker Gunvolt?" Well, besides whoever it was at Nicalis who drew up this game concept. Still, it's here, it's weird, and by all accounts it's a solid and functional fighting game. The inputs are quite unusual – they're more like Smash inputs that the usual quarter-circles and charges you might be used to, which people seem to either love or hate. We'll see if it gets any sort of competitive traction, but it's a bit of a crowded market for fighters right now…
And that's another Week in Games! There will probably be some fun news next week with all the convention goings-on, and that interview I teased last week will be going live in the next couple days, so I look forward to serving you all again with more quality gaming reading material!
---
discuss this in the forum (8 posts)
|
RightStuf - Anime, Manga and More