Anime Spotlight - Flowers of Evil
by Justin Sevakis,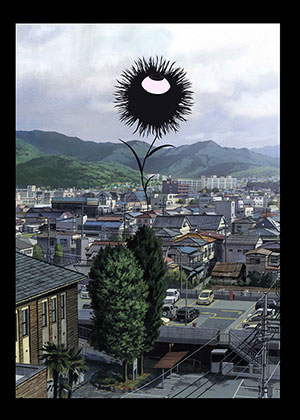 April, 2013 (Japanese Broadcast)

Key Staff
Director: Hiroshi Nagahama

    (Detroit Metal City , Mushi-Shi)

Music: Hideyuki Fukasawa

    (Intrigue in the Bakumatsu - Irohanihoheto, You're Under Arrest- Full Throttle)

Animation Production

ZEXCS







Story
Takao Kasuga was a young boy engrossed in the works of Baudelaire.
Driven by irresistible impulses, he laid hands upon the gym uniform of Nanako Saeki, the girl he secretly had a crush on. But that act dramatically shook his fate, at the hands of Sawa Nakamura, the girl who caught him in the act…
Where will such building passions unique to youth lead in their small, insular town?
This is a tale everyone has or will experience in their lives, a forbidden tale of youth recorded in the valley between anguish and joy.
Characters
Note: The producer of this show has decided not to release any character artwork until after the show premieres.
Takao Kasuga
VA: Shinichiro Ueda

Takao is a middle school sophomore who loves literature and is engrossed with Baudelaire. He believed that literature was supreme and drunk with the thought of placing himself in that world. But his peaceful was nearly shattered when Nakamura witnessed him stealing Saeki's gym uniform. But even as he's toyed with by her actions, he starts to feel a strange sort of sympathy towards her.

Sawa Nakamura
VA: Mariya Ise

"You damn worm!" she spits out at her own teacher. The world seen in her eyes is one entirely filled with trash and filth. She's isolated from her classmates, and has no one she can call a friend. When she witness Kasuga stealing the gym uniform, she felt that he carried the same darkness in his heart, and believed that he might be the one help her reach the other side and see a different world.

Nanako Saeki
VA: Yoko Hikasa

The girl Kasuga secretly has a crush on. She's popular, beautiful, and an excellent student. The real truth is that she's just pretending to be the "good girl" others expect her to be, and she's nearly lost sight of who she really is. Then when she learns the truth behind the theft of her gym uniform without learning of the relationship between Kasuga and Nakamura, she feels herself drawn to Kasuga, who was the first to find merit in her.
Cast
Takao Kasuga

Shinichiro Ueda

Sawa Nakamura

Mariya Ise

Nanako Saeki

Yoko Hikasa

Yamada

Katsutoshi Matsuzaki
(Yasashii Ame)

Kojima

Shinya Hamazoe

Kinoshita

Ayako Uemura

Mayu

Sayuri Hara
Staff
Original Creator

Shuzo Oshimi
(Kodansha Bessatsu Shonen Magazine Publishing)

Director

Hiroshi Nagahama

Assistant Director

Tetsuo Hirakawa

Series Composition

Aki Itami

Character Design

Hidekazu Shimamura

Art Director

Kentaro Akiyama

Color Design

Hiroko Umezaki

Director of Photography

Yoshihisa Oyama

Animation Director

Kanako Sato

Editing

Daisuke Hiraki

Live Film Production

DECODE, Inc.

Sound Director

Kazuya Tanaka

Music

Hideyuki Fukasawa

Music Production

Starchild Records

Animation Production

ZEXCS




©Shuzo Oshimi・Kodansha/Akunohana Committee
---
discuss this in the forum (236 posts)
|
back to Anime Spotlight Spring 2013 - The List
Anime Spotlight homepage / archives