Anime Spotlight - HENNEKO (The Hentai Prince and the Stony Cat)
by Justin Sevakis,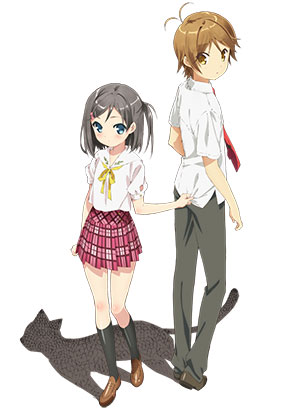 April, 2013 (Japanese Premiere)

Key Staff
Director - Youhei Suzuki

    (Storyboard/Episode director on Familiar of Zero, Mahoraba ~Heartful Days~)

Series Composition - Michiko Ito

    (Okami-san & Her Seven Companions, Twin Angel: Twinkle Paradise)

Character Design - Haruko Iizuka

    (Little Busters!, Okami-san & Her Seven Companions, Inu X Boku Secret Service)

Animation Production

J.C. STAFF







Introduction
A wandering tale of youth between a bright pervert and a curt girl is about to begin!
Story
"Sempai, you're a hopeless pervert."
Youto Yokodera is a high school sophomore whose mind is filled with base desires, but after praying at the stony cat, he finds that all of his inner thoughts are spilling from his mouth!
The one who saved him from this greatest pinch in his life was a cold, cute, and expressionless girl, Tsukiko Tsutsukakushi.
"You're the kind of girl I'd love to caress from head to tail."
"You're a pervert, aren't you?"
"N-No, I mean that as praise."
"You sound like a pervert often taken to court."
At any rate, the wandering youthful story of a bright pervert and a curt girl out reclaim the heart and front they lost to a stony cat is about to begin!
Characters
Youto Yokodera
VA: Yuki Kaji

A young boy who lost his "front". His nickname is Hentai Prince.

Tsukiko Tsutsukakushi
VA: Yui Ogura

A girl who's lost her "heart". She's cute and cool.

Azusa Azuki
VA: Kaori Ishihara

A young lady who gained a "front". She loves animals!

Koutetsu no Ou (Steel King)
VA: Yukari Tamura

Captain of the Track Club that Youto's in. She's strong.
Cast
Youto Yokodera

Yuki Kaji

Tsukiko Tsutsukakushi

Yui Ogura

Azusa Azuki

Kaori Ishihara

Koutetsu no Ou

Yukari Tamura
Staff
Original Creator
Sou Sagara
(MF Bunko "The Hentai Prince and the Stony Cat"
Media Factory Publishing)

Original Character Design

KANTOKU

Director

Youhei Suzuki

Series Composition

Michiko Ito

Character Design

Haruko Iizuka

Sound Director

Jin Aketagawa

Animation Production

J.C. STAFF

Production

HENNEKO Project




©2013 Sou Sagara・MEDIAFACTORY/HENNEKO Project
---
discuss this in the forum (236 posts)
|
back to Anime Spotlight Spring 2013 - The List
Anime Spotlight homepage / archives