Anime Spotlight Spring - keroro
by Anthony Foronda,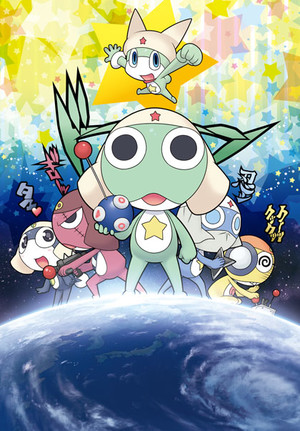 Broadcast Begins March 22, 2014 (JST)

Key Staff
Original story: Mine Yoshizaki

(Arcade Gamer Fubuki (TV))

Animation production: Sunrise

(Mobile Suit Gundam, Code Geass Lelouch of the Rebellion, Tiger & Bunny)

Theme song by: Mayumi Gojo

(The Sacred Blacksmith, Futari Wa Pretty Cure)







Introduction
Keroro! A brand-new campaign to invade Pekopon begins!!
This year, the original manga of SGT. FROG meets its 15th year anniversary! And so begins a new flash animation project!
Now SGT. FROG has grown into a 1.5 generation character that parents and children nationwide enjoy, so with a new character design, and new title "keroro", a brand-new invasion begins!
Look forward to the new incarnation of Keroro!
Story
Sergeant Keroro, who is "58th Planet of the Gamma Planetary System, Space Invasion Army Special Tactics Platoon Leader," infiltrates the Hinata family's home as a preparatory stage to conquer Earth, but is easily captured by Fuyuki and Natsumi due to his inherent incompetence. Keroro ends up staying in the home of the Hinata family thanks to Fuyuki's generosity, or perhaps simply out of his curiosity. As they pass the days Keroro and his four subordinates (or creatures?) together plot to conquer Earth, or maybe not.
Characters
Sergeant Keroro
VA:Kumiko Watanabe

Platoon Leader Keroro tends to forget his mission to conquer Earth and is not fully trusted by his platoon members.

Fuyuki Hinata
VA: Houko Kuwashima

A boy who loves occult and manga. He becomes friends with Sergeant Keroro.

Natsumi Hinata
VA:Chiwa Saito

The powerful older sister of Fuyuki who excels in sports.

Private Tamama
VA: Etsuko Kozakura

Contrary to his cute looks, his split personality makes him turns into a scary maniac at the drop of a hat. For some reason, he shows respect for Keroro.

Corporal Giroro
VA: Jouji Nakata

A soldier determined to accomplish his mission and also a combat expert. Has a little crush on Natsumi.

First Sergeant Kururu
VA:Takehito Koyasu

Always plotting something. The staff of radio wave-related operations. Causes trouble for Natsumi and others with his weird inventions.

Lance Corporal Dororo
VA:Takeshi Kusao

An assassin who used to be bullied. Often forgotten by his comrades because of his inconspicuous presence.
Cast
Sergeant Keroro

Kumiko Watanabe

Private Tamama

Etsuko Kozakura

Corporal Giroro

Jouji Nakata

First Sergeant Kururu

Takehito Koyasu

Lance Corporal Dororo

Takeshi Kusao

Fuyuki Hinata

Houko Kuwashima

Natsumi Hinata

Chiwa Saito
Staff
Original story

Mine Yoshizaki

Director

Haruki Kasugamori

Animation production

Sunrise

Production assistance

Gathering

Theme song

"Keroro ☆ Popstar" by Mayumi Gojo (Nippon Columbia)




©2014 Mine Yoshizaki / KADOKAWA, SUNRISE
---
discuss this in the forum (204 posts)
|
back to Anime Spotlight Spring 2014
Anime Spotlight homepage / archives