Naruto Build-A-Ninja Sweepstakes: The Winners
February 26, 2006
Anime News Network, D3 Publisher of America and
TOMY proudly present the winners of the 2006 NARUTO Build-A-
Ninja Sweepstakes!
There were an overwhelming amount of entries this year and all of them were staggeringly creative. It was extremely difficult to whittle down hundreds of entries to only 5 winners. Later this week, we'll be publishing a gallery of selected entries; some of these need to be seen to be believed!
Warning: Large Images Ahead!
So, without further ado, our grand prize winner is Matt Gunther, whose entry is an exact (and very convincing!) replica of the 'data book' section of the manga, right down to the very last detail. We did a double-take and had to confirm with Matt that he didn't simply scan this in from the manga; it's that good!
Gunther also included his ninja's final technique: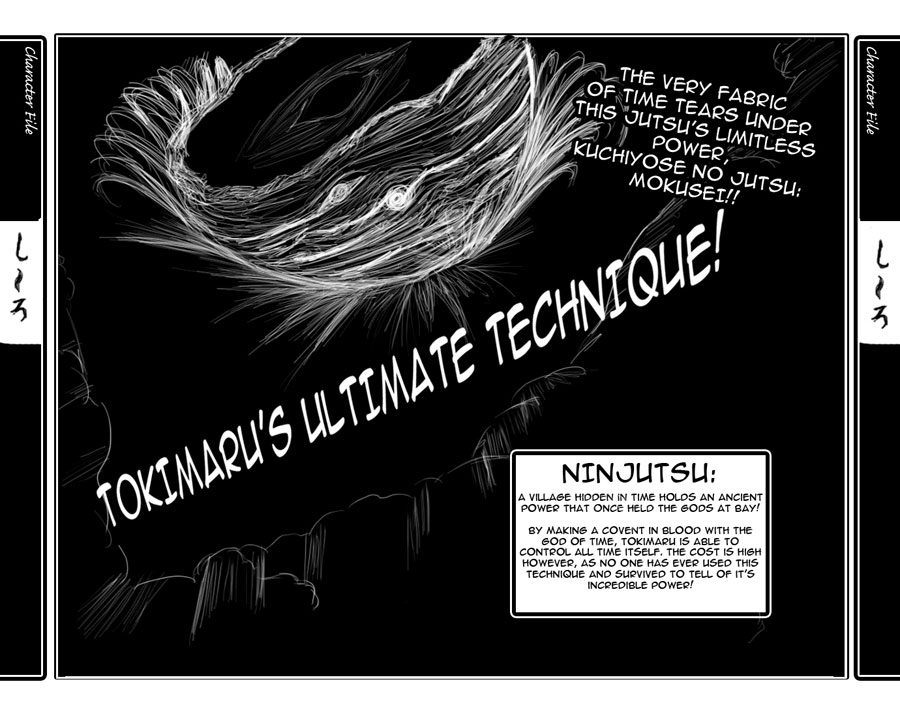 Our first runner-up position goes to Phuong Nguyen, who certainly takes the 'most elaborate' prize. Phuong sent in a wealth of information; so much so we can't print it all here, but we will publish her amazing images: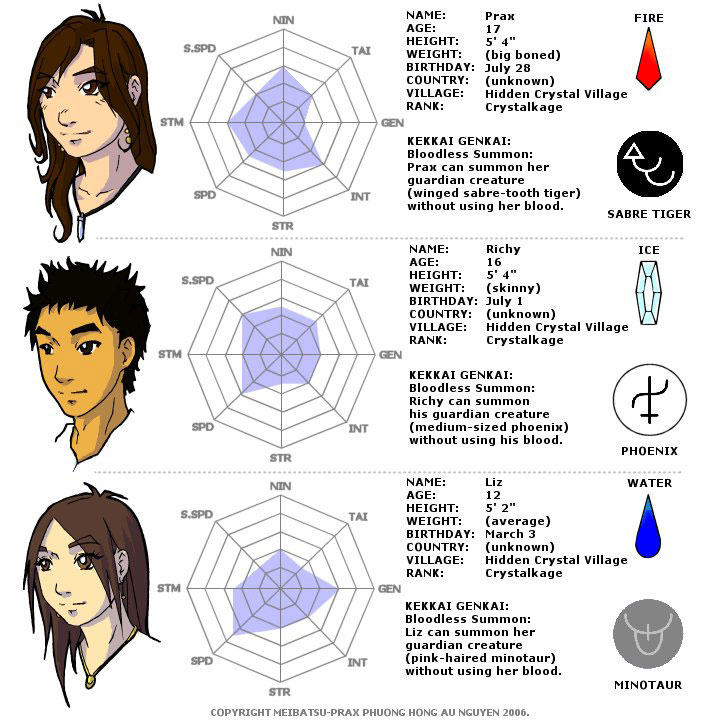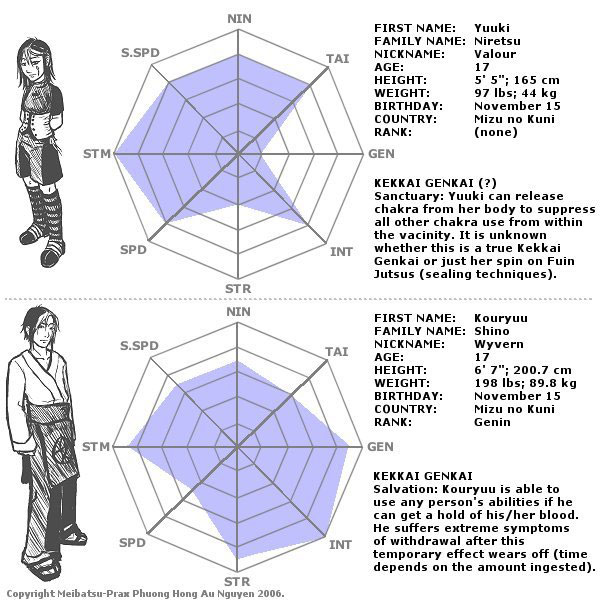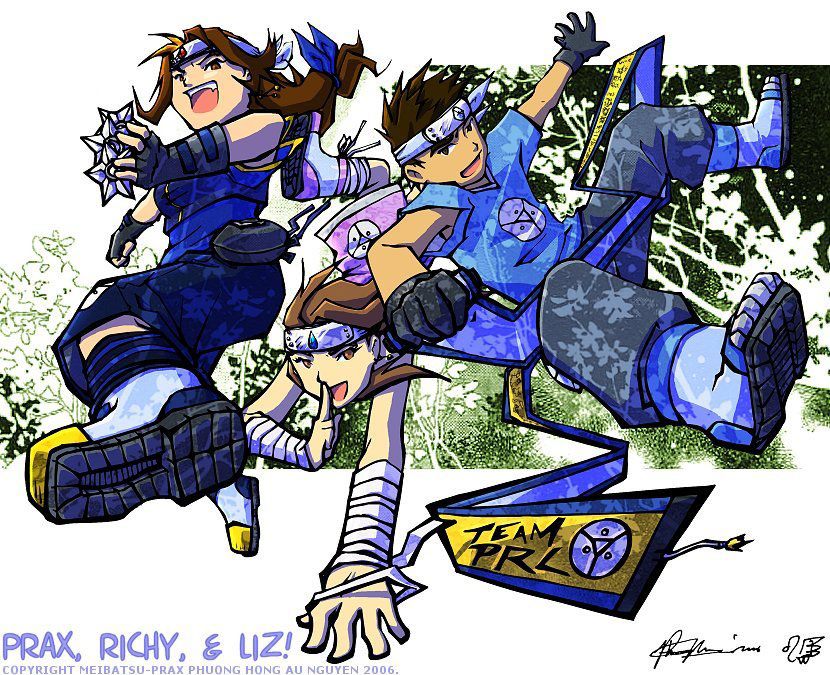 Our second runner-up position goes to Frank Hebefort, for his imaginitive Sand Ninja:
Name: Batan (Real Name unknown.)

Village: Hidden Village of Sand.

Since his early childhood Batan showed a huge interest in everything that
explodes. He's an expert in building and usage of any known firearm and
explosives.

Catchphrase: "If it's able to blow hand it to me and hide."

Techniques:

Double Explosive Tagball - Summoned by a scroll, Batan hurls two explosives
at his enemy causing a huge explosion and a giant wall of smoke and dust to
blind his opponents.

Shooting Sight of the Bat - Using this Jutsu, Batan is able to locate an
Enemy even in pure black environment by focusing on the victims energy
flows. The attack usually follows is an aimed shot with Batans rough but
deadly sniper gun.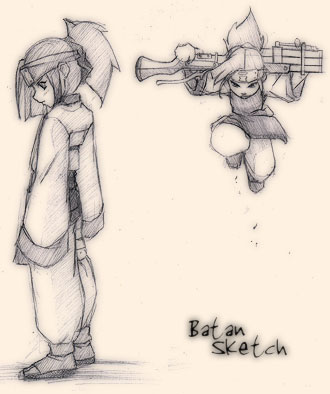 Our third runner-up position belongs to Rachael Phillips:
And our final runner-up spot goes to Joey McInnis, whose hockey ninja struck us as a very original concept:
Name: Fuyu Frost
Village: Hidden in Snow

Past: Fuyu is an accomplished chakra smith. He created his custom armor and pucks to aid in his favorite sport: NINJA HOCKEY! Unfortunately Fuyu was cut from the Snow Flakes team when his puck ruined a perfectly good zamboni. He now seeks revenge against the rival team the Konoha Fireballs.

Catchphrase: I'll be the best Hockey Jockey!

Blood Type: O

Theme Song: Hitori no Yobu

Techniques: Slapshot no Jutsu: His pucks are immune to all chakra and dissolve metal. Taijutsu is the only
way to stop them.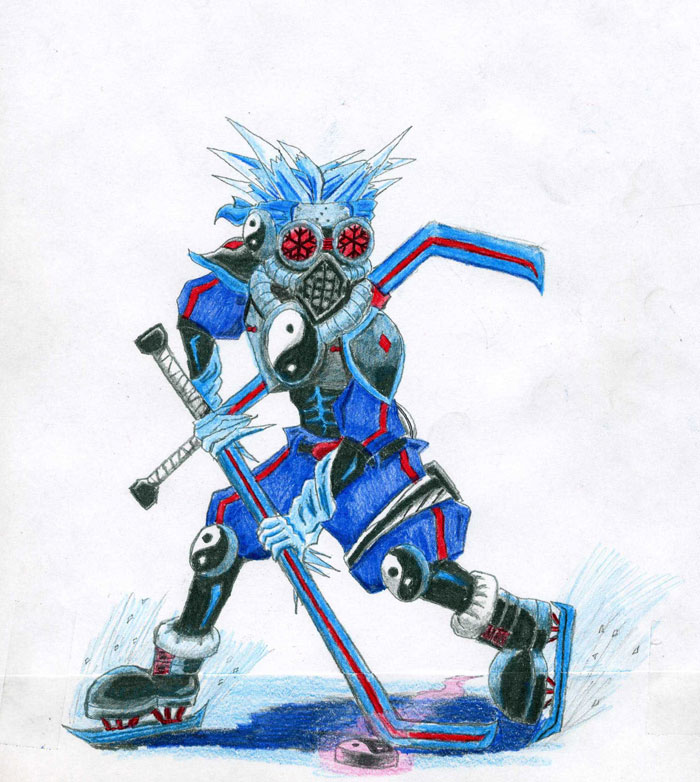 And that's it! Thanks again to everyone who entered. Keep an eye out this coming week for a gallery of selected winners; if you'd like to see your entry in the gallery, simply email us at
[email protected]
and let us know. Due to the overwhelming amount of entries, we'll only be able to publish the art; no text entries will be accepted.
Thanks again to D3 Publisher,
TOMY and Viz Media for furnishing the prizes for this event. The NARUTO: Clash of Ninja and NARUTO: Ninja Council video games for the Nintendo Gamecube and GameBoy Advance are in stores now!
---
discuss this in the forum (210 posts)
|
back to Naruto Build-A-Ninja Sweepstakes!
Contest homepage / archives