Otakon 2004

L'Arc~en~Ciel Press Conference

by Christopher Macdonald,
August 1st, 2004
Baltimore, MD
How was your US debut performance at Otakon? Was performing here different than in Japan?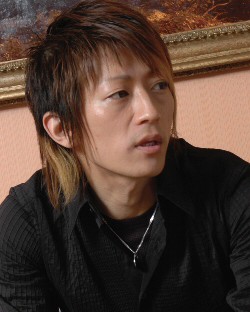 tetsu
Image Junichi Takahashi, © Tofu Records
ken: I got to Baltimore, went to all the tourist sites first and did the show after I had learned everything about Baltimore. I probably know Baltimore the best out of all of you. Because of that, I felt very relaxed and it didn't make any difference if it's Japan or the US.
tetsu: I thought it was an extension of Japanese tour and I also felt very happy.
hyde: It was the first time that I played in America. The audiences were so warm and they made us feel very welcome and I really had a good time.
yukihiro: I really had a good time, too.
L'Arc~en~Ciel has one of the largest fan followings for a Japanese band outside Japan. Are you guys aware of your popularity outside of Japan?
ken: We didn't know that.
hyde: Same for everybody, we really didn't know that we're so popular outside Japan.
"SMILE" is your first album in several years. How did the time in between help you focus on what you wanted to do with this recording?
ken: Because I got much time off from the band, I almost felt like a teenager again. I got time to listen to music the way I was when I was a teenager. So feeling that way really helped with recording this new album.
tetsu: The recording process felt very fresh because we got time in between recordings.
hyde: Because we hadn't played together in a while, you look at your band members with new eyes. I thought like, "Wow, this guy plays great guitar!" or "They're really professional musicians", which you kind of forget after being together for a long time. And everybody's chorus ability is a lot better than before so the chorus of L'Arc-en-Ciel is a lot better now.
yukihiro: This recording was so much fun to do and I also felt very fresh coming back together again.
Who are your musical influences and some of your current favorite musicians?
hyde: There are so many... Last year I listened to Linkin Park a lot. This year, Limp Bizkit.
I just love music so I listen to all kinds of music.
Any messages for your North American fans?
tetsu: I'm sure there are a lot of people who don't know our music yet. So we hope that they'll get to know our music.
What motivates your performance on stage?
ken: I pray... I pray to Buddha (jokingly).
Please describe each of your involvement in song writing process? What do each of you try to bring into the songs?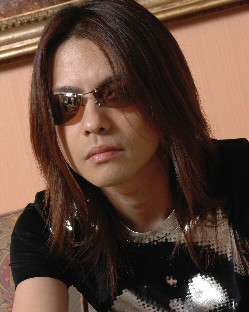 hyde
Image Junichi Takahashi, © Tofu Records
yukihiro: We bring all of the song that each of us wrote into rehearsal studio. We share the songs and each of band members starts writing each part.
To many bands, breaking into the U.S. market is considered a major success. What are your feelings regarding having released your music in the U.S.?"
ken: There are other Japanese artists that try to break into the American market. But they release an album and go home. I don't feel that is a success. So we have to continue working hard to be an actual success in this market.
tetsu: As long as we sing our lyrics in Japanese I find it may be difficult to really break into America. Our musical activities will always be based in Japan but if we could come to America and have a good time, I'm up for that.
Based on success of the Otakon performance, would you like to or are you already planning for your future US performances?
hyde: I was so happy that music crosses the border. We were all one at the Arena yesterday. If we could continue doing that, I'd be very happy.
What keeps you guys coming back to make the great music that you do?
yukihiro: Just the fact that we have great time together.
hyde: Having a good time is obviously very important but each and every one of us has good musical tastes so I feel very lucky to be part of this band.
tetsu: It's almost like destiny.
ken: I think our musical tastes are similar in a sense but they're also a bit different. I think those differences can bring something new when the four of us come together and I guess that helps us make the music that we make.
Performing a concert at an anime convention, your anime music themes were extremely well received at the concert. What position do you think anime fans have in L'Arc-en-Ciel fandom as a whole?
tetsu: In Japan a lot of elementary school kids watch anime. So it's just a window for them to listen to rock music and they're exposed to our music at a young age.
What were your expectations and feelings prior to the show?

ken
Image Junichi Takahashi, © Tofu Records
ken: Right before the concert we were really busy. I basically packed the night before I left Japan, got on a plane and before I knew it, I was in Baltimore. So I really didn't have too much time to think about it. Now I'm short of one pair of underpants.
tetsu: I thought that every single person here would be a cosplayer and that they'd be at our concert but it wasn't every person.
hyde: I had no idea what to expect. Performance-wise, I knew that we wanted to do the show that we always do. During the shows in Japan I always tell a lot of dirty jokes. But I refrained from that at this concert.
yukihiro; I didn't really think about too much. I just thought that if we tried to do the best show we could do, things would go well.
What was the one most unique experience/memorable moment that you had in Baltimore?
yukihiro: Dolphin show
hyde: I had a lot of great experiences here but the most memorable one is definitely the concert. I'm used to playing shows in front of Japanese audiences but the (US performance) felt different. Just looking at the US audience and seeing a lot of faces that were smiling was very impressive.
tetsu: Doing a concert for the first time in America and so many fans came all the way to see us... that was such a precious experience.
ken: Just listening to the crowd before going on stage, it seemed like crowed was really into it and wild. Once I came out, the American audience was still loud and wild and they were really close. In Japan, because the restrictions were so severe, people in the first row are 6 meters away and they could never come up or show would get stopped. I almost felt like I was playing in a tiny club because everybody was so into it and upfront. It was like a small club but at the same time, there were massive fireworks going on. So that was my feeling and I want to do a concert in America where restrictions aren't as severe as Japan.
In America, the theme song for the animation "FULLMETAL ALCHEMIST"("READY STEADY GO") is very popular, but what's the song off the "SMILE" that has most significant meaning to you?
ken: We write the songs but in the end it's hyde who actually sings the lyrics so I wonder what hyde thinks.
hyde: There are many songs that are significant to me as every song we write brings moments and emotions to mind. But if I had to pick one song off the album, it would be the one called "Forever-Eien".
tetsu: I would say all songs. I'm always committed to do a performance that makes our singer comfortable singing.
If you could make any one wish come true in the music industry, what would that be?
ken: I want to use Michael Jackson as a warm-up speaker (before our show).
hyde mentioned that he likes Linkin Park. Would you want to make a promotion video with original animation like they did?
hyde: We had a plan but only ken and I were up for it...
We asked a lot about "SMILE" today, but do you think the American audience likes your old songs such as "DRIVER'S HIGH", which you released in the late 90s?

yukihiro
Image Junichi Takahashi, © Tofu Records
yukihiro: Of course.
What was the funniest moment in Baltimore?
ken: We went to the Baltimore Aquarium and my manager took pictures of every single fish there, which was funny. He was giving the fishes very caring eyes. I wanted to tell him,
"You should look at ME like that!"
tetsu: An American fan came up to me asking for autograph. He gave me our artist photo and three of the members' autographs were already there. But where my picture was, there was ken's autograph so he probably didn't know the difference between ken and I.
I signed above ken's autograph and he kept looking at the picture and then my face, picture and my face... that was funny.
hyde: After I came back to the hotel last night, someone knocked on the door. There were group of American fans there and they asked me "Why don't you join us to drink? I said "I'm sorry, I'm very tired" and closed the door. They came back with even more people and this time they asked for autographs. They were like, "Would you please?" and looked very apologetic. Although I was very tired, I thought they were adorable.
yukihiro: When you go out to eat in America, the portion of food are so massive. I think it's kind of funny.
---
back to Otakon 2004
Convention homepage / archives