Chicago Comic & Entertainment Expo 2011: Full Report

C2E2 - Day 1

by Bamboo Dong,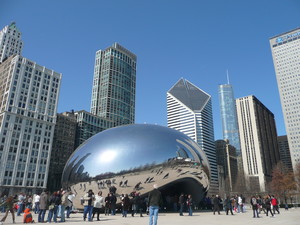 They say that the key to any successful business is location, location, location. Chicago Comic & Entertainment Expo must've taken good notes in class that day. Located just south of the downtown area, the convention gave out-of-towners easy access to some of the greatest spots in the city, being just minutes from Soldier's Field, Grant Park, and a plethora of museums. A quick hop on the bus, or a $7 cab ride plopped attendees in the heart of Chicago, where tourist destinations like Millennium Park or the Sears Tower awaited—just in case people needed to give their wallets a break from all the comic book retailers inside the C2E2 exhibit hall.
The convention itself was held in the West Building of McCormick Place, a sprawling, freeway-spanning complex that could easily hold two conventions the size of San Diego Comic Con simultaneously. As it was, most of the massive center was still empty, even though C2E2 was sharing space with a conference for fundraising professionals, and a trade show for robots and automations—something that caught the eye of most of the science fiction fans that walked by.
With a show floor filled with comic book dealers, publisher booths, toy retailers, and Utilikilts, there was plenty for con-goers to do, but the show was bolstered by a range of panels, game rooms, and amusingly, signs pointing towards rooms that said "Quidditch" and "Speed Dating."

What Happens at the Con, Stays at the Con
The first dedicated anime panel of the day was the salaciously titled, "What Happens at the Con, Stays at the Con," hosted by voice actor Spike Spencer. Best known for his role as Neon Genesis Evangelion's Shinji Ikari, he's is an old hand at anime conventions. So of course, he has a ton of crazy stories. Reading out of his book of the same name, Mr. Spencer regaled the audience with a sampling of his adventures over the years, like dodging prostitutes in Barcelona, and pick-pocketing his own wallet back from a pick-pocketer. And, like the entertainer he is, he kept the crowd laughing with his collection of zany voices and his high energy.
I didn't think a panel devoted to hearing someone's convention stories would be that well-attended, but I was wrong. The crowd ate up every last word, and if there's one thing that Spike is good at, it's working a crowd. It was definitely one of the more entertaining events at the convention, second only to the comedy extravaganza to be hosted later that night.

Comedy Death Ray feat. Patton Oswalt
Whoever thought of this event is an absolute genius. For just $10, convention goers could buy a ticket to what was probably the weekend's biggest event, with comedians Dan Telfer, Joe Mande, and headliner Patton Oswalt. For those unfamiliar with the comic genius that is Patton Oswalt, his credits include King of Queens, Big Fan, and voicing Remy in Ratatouille. In more serious roles, he played the lead character in Big Fan, and, for fans of Joss Whedon's Dollhouse, he made an appearance in two episodes as one of the Dollhouse's clients.
The comedians killed. More than one expressed their utter glee in being able to pull out some of their nerdier material, and there was not a single dry eye or uncramped stomach in the audience once Oswalt got going. With his special brand of dry humor and self-loathing, he had every audience member bowled over in their seats. In all my ten years of going to conventions, this may very well have been the best event I have ever gone to. Every seat in the giant room was filled, and it was a great way to end the first day of the convention.
When I interviewed programming director Peter Tatara last week and asked him what was the must-see event of the convention, he said that this was it. He was not kidding.
---
back to Chicago Comic & Entertainment Expo 2011: Full Report
Convention homepage / archives