×
remind me tomorrow
remind me next week
never remind me
Subscribe to the ANN Newsletter • Wake up every Sunday to a curated list of ANN's most interesting posts of the week.
read more
New York Comic-Con 2011

Sunrise Panel

by Crystalyn Hodgkins,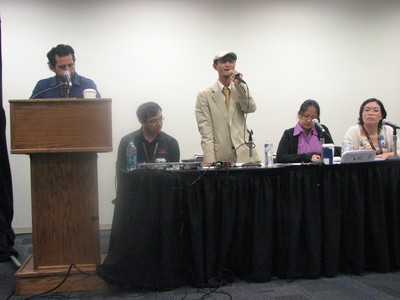 Bandai Entertainment Marketing Director Robert Napton, Sunrise Executive Officer and Producer Masayuki Ozaki, and Akane Hagino, who is in charge of international sales and the English adaptation of Gundam UC at Sunrise, hosted the Sunrise industry panel on Saturday.
This is the first Sunrise panel at New York Comic Con. Ozaki, who spoke in English through most of the panel, said he was a little anxious, but said he was glad it was nearly a full house.
First Ozaki introduced Sunrise. Sunrise was founded about 35 years ago. It has more than 300 titles, and more than 70 percent of those are original titles (titles that not based on manga or video games).
Ozaki joined Sunrise eight years ago, and his first project was Mobile Suit Zeta Gundam: A New Translation. Ozaki has also produced Dinosaur King and Battle Spirits, and he mainly produced family and kids titles. He wanted to produce different titles, and then he produced Tales of the Abyss and Tiger & Bunny.
Ozaki mentioned that he would host a Tiger & Bunny panel on Sunday morning, and will explain more about that show in detail then.
Ozaki then showed trailers for some Sunrise properties. It was a 20-minute trailer showing first the world of Gundam and then Sunrise's recent properties.
First Sunrise showed a trailer for the world of Gundam. The trailer went through each Gundam series from the beginning with Mobile Suit Gundam through Gundam UC and Gundam AGE, and it mentioned the years each series came out, and was narrated in English.
Ozaki then showed a trailer for Tiger & Bunny, then Sacred Seven. Ozaki mentioned during the trailer that Sacred Seven is directed by Yoshimitsu Ohashi, the director for Witchblade. He then showed a trailer for Phi-Brain - Kami no Puzzle, which began airing in October. Next, Ozaki showed a trailer for Horizon in the Middle of Nowhere, which Ozaki mentioned is based off of a light novel series and is also currently airing. Lastly, Ozaki showed a trailer for Gundam AGE.
Ozaki mentioned that Gundam AGE is Sunrise's newest Gundam series, and Sunrise has been trying to promote the Gundam franchise in the U.S. He asked the audience to help teach Sunrise how to promote Gundam in the U.S. and all over the world.
Next, Ozaki explained a bit more about each series that he showed in the trailers. Ozaki mentioned that there would be a screening of the first two episodes of Tiger & Bunny later on Saturday evening at NYCC. Ozaki mentioned fans can watch Sacred Seven on Hulu and Crunchyroll now. Ozaki noted there are two more Sacred Seven projects upcoming, with one episode in the works currently. One of the projects is known as the "Night Edition," which will be from Night's point of view. Ozaki said hopefully some time next year Sunrise can show a preview of that new project.
Regarding an American release for Phi-Brain - Kami no Puzzle, Sunrise is still in negotiations and can't say anything quite yet about it, but he said Sunrise is working to bring it to English as soon as possible. Ozaki mentioned that the director of that series, Junichi Sato, also directed Sailor Moon and Sgt. Frog.
Manabu Ono, the director of Horizon in the Middle of Nowhere, is new. The Anime Network is simulcasting the series.
Ozaki mentioned that Gundam AGE is being directed by Susumu Yamaguchi, who directed the Sgt. Frog. films. In addition, the head screenwriter for Gundam AGE is Akihiro Hino, CEO of Level-5 (Inazuma Eleven, Professor Layton). Gundam AGE just started its broadcast in Japan. Ozaki asked the audience how do they like the character designs for Gundam AGE, since they are a bit younger looking. After the audience grumbled a bit, Ozaki said he was afraid of that. Ozaki said that fans in Japan have the same reaction. He added that the first episode only aired last Sunday in Japan, but the viewer reaction after they saw the episode was "eh, I guess it works." So, Ozaki asked the audience to be patient, and to not discriminate against it just because of how it looks. He also added that Sunrise hasn't yet finalized negotiations for a U.S. release, but he hopes to bring it out as soon as possible, and asked fans to please be patient.
Next, Ozaki showed a trailer for a new work, titled Accel World. Accel World was only announced a few weeks ago, and it is based on a series of light novels. The vague trailer had an animated sequence of a girl with butterfly wings holding an umbrella. After the trailer, Ozaki said he bets that the audience would want to know what it was about, but actually he hadn't read the light novels yet so he doesn't know either, so he asked the audience to keep their eyes and ears open about the project.
Next Ozaki showed an English trailer for Gundam UC episode 4. He added there would be a screening of episode 3 of the series later on Saturday, and and afterward Sunrise will show six minutes of episode 4, which will be a world premiere of that footage. He then passed the microphone to Hagino, who asked Stephanie Sheh and Michael Sinterniklaas to talk about Gundam UC. They explained that the dubbing for the fourth episode had a really intense schedule. Sheh said that episode four was her favorite episode so far.
Ozaki then spoke about the new Code Geass project, Code Geass Gaiden: Bōkoku no Akito, which is planned to be released in 2012. The director of that project is Akane Kazuki, the director of Escaflowne. CLAMP will again do the character designs, and the main characters will be different from the previous Code Geass works. The series takes place between the two seasons in Europe. Ozaki said he hopes to release further details early next year.
He then mentioned the anime adaptation of Gundam: The Origin. Ozaki said it is currently being animated, but that was all he could say about it at this time.
Ozaki then launched into a Q&A and apologized that he didn't have any prizes to give away for those who ask questions, but said that he will sign autographs later for those who asked questions "whether they want one or not."
Ozaki said during the Q&A that Sunrise would love to hear about what classic titles Sunrise should release in America, so please let the company know and it will consider each request as it comes in. He added that fans can contact Sunrise through it's English website. Sunrise does plan to slowly release Yoshiyuki Tomino's older classic titles, and to look out for announcements regarding those.
When asked if Sunrise has ever thought about partnering or working with companies such as Microsoft on say, a Halo anime, Ozaki clarified that Sunrise is part of the Namco Bandai Group, so when they do adapt video games, it is only video games produced from companies under the Namco Bandai Group umbrella.
Regarding Gundam AGE's character designs, Ozaki said it was partly based on the fact that they picked Akihiro Hino to be the chief writer for the series, and also because they wanted to widen the viewing audience. They wanted to create something both adults and elementary school kids could enjoy.
Napton then answered a question about a possible licensing of Mobile Suit Gundam ZZ, Gundam X, and the Gundam Seed films, saying that there are no definitive plans for any of those works to be released in the U.S. right now.
---
discuss this in the forum (6 posts)
|
back to New York Comic-Con 2011
Convention homepage / archives