Anime Boston 2013

Opening Ceremonies

by Crystalyn Hodgkins,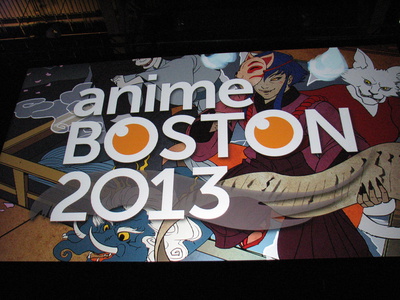 The opening ceremonies kicked off Anime Boston on a rainy Friday morning to a standing-only crowd. Con Chair Andrea Finnin and Vice-Chairman Victor Lee started the ceremonies by acknowledging last month's bombings in Boston, and added that the attendees here are helping to bring commerce to the area this weekend. Also, the con's staff donated to "The One Fund" charity that will benefit the victims of the bombings. The American Red Cross is also holding a blood drive during the convention, and the con's traditional charity fund for Multiple Sclerosis will benefit from the charity raffle and auction, and 100% of the gross proceeds from the formal ball will also go toward that charity. After showing a video reel of the con's sponsors, Lee began introducing the guests. Each guest was introduced by a video displaying the guests' more notable works, and each guest in attendance gave a speech about what panels they will be hosting at the convention.
The following American guests are attending the convention: Chris Ayres, Greg Ayres, Christopher Bevins, Zach Bolton, Lauren Landa, Cherami Leigh, David Matranga, Bryce Papenbrook, Monica Rial, Rachel Robinson, Stephanie Sheh, Micah Solusod, Kari Wahlgren, and Tom Wayland (who was introduced with a hilarious skit with his kids about laying off the Red Sox jokes this year while all of them were wearing Yankee's jerseys and then Tom himself emerged onstage from a fake well like Sadako from The Ring, in reference to the con's theme this year of youkai).

Raj Ramayya, one of the two musical guests at the convention, was then introduced, and then Anime Boston introduced fashion designer IBI (who said he loved Boston and clam chowder). Ramayya then performed the Cheers theme song on stage for the audience, and then he sang a song of his own composition using words the audience shouted out at him (freebird, yaoi, and otaku). Ramayya will be performing on Saturday evening at the convention.
Anime Boston then introduced Shinichi Watanabe (aka Nabeshin). This is Nabeshin's first time in Boston. Nabeshin mentioned that both he and Boston had experienced some problems lately (Nabeshin recently had a heart attack), but he said that "both Boston and I have come together and we are both here now!"
Anime Boston then introduced Shinichiro Kashiwada, producer for Sword Art Online. When Kashiwada asked if the audience liked Sword Art Online, the audience erupted into cheers. Next was Tomohiko Ito, the director of Sword Art Online. Ito, in English, thanked everyone for coming, then said in Japanese that this is his first time in Boston, and he was shocked to find out that Sword Art Online is popular in the United States. Ito added that due to that he is a little nervous. The next guest introduced was military adviser Yasuhiro Koshi, who was dressed in a Shinsengumi jacket.
Next musical guest Yousei Teikoku was introduced. The frontwoman Yui spoke in her persona as a princess from The Empire of The Fairies, ordering her "subjects" to attend her concert on Friday evening. Finally, musical guest ORIGA was introduced. ORIGA sang one of the full Ghost in the Shell Stand Alone Complex opening theme song for the audience. Origa will perform on Saturday evening.
Lee and Finnan closed out the opening ceremonies by thanking the attendees.
---
back to Anime Boston 2013
Convention homepage / archives