Anime Boston 2013

Sword Art Online Premiere and Q&A

by Crystalyn Hodgkins,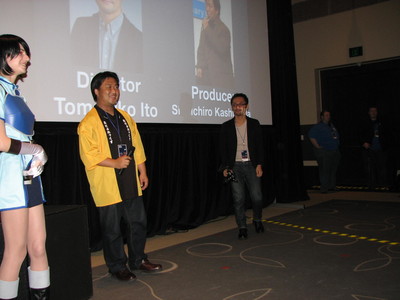 Aniplex of America hosted an English-language dub screening of the first two episodes of Sword Art Online on Saturday evening to a completely packed room that had to turn people away. Aniplex's EJ Rivera hosted the panel. Sword Art Online director Tomohiko Ito and producer Shinichiro Kashiwada were in attendance for the Q&A session after the screening. Kashiwada and Ito also each then gave an introduction. Ito said that about 11 months ago, he did the premiere showing in Tokyo for the series, and back then he never imagined he'd be here a year later in Boston. Ito added that this is the first time he's going to see the English dub. Kashiwada also said it's his first time seeing the dub, so he's looking forward to it and he hopes everyone has fun.
Rivera then showed a video featuring Cherami Leigh and Bryce Papenbrook, the voice actors for Asuna and Kirito, who talked about the series and read some lines from the script. Rivera introduced both Papenbrook and Leigh, who were also in attendance. Both took pictures of the audience and thanked the fans for coming and said they hoped the fans like the dub.
Rivera showed the same video he showed at the Aniplex of America panel on Friday announcing that Sword Art Online will air on Toonami starting in August, and the audience exploded into cheers at the news.
Rivera then played the first two episodes of Sword Art Online. The dub itself was very good, with Papenbrook doing a great job as Kirito. Some of Kirito's lines were a bit cheesy in the first two episodes, and Papenbrook couldn't quite pull off those cheesy lines, but otherwise he did an excellent job as Kirito. Leigh also did a good job at Asuna, who didn't have a lot of lines in the first two episodes. Her voice was a little high pitched, but she really put a lot of emotion into her lines and the tone was easy to get used to. The character of Klein was given a lot of contemporary slang (For reals!?, Hellz yeah!) which probably isn't completely necessary, but overall the dub will be a good fit on Toonami.
After the screening, Rivera revealed that Sword Art Online will be released on DVD and Blu-ray Disc starting in August. Rivera then launched into a Q&A with Ito and Kashiwada. When asked how they liked the dub, Ito said he was very impressed, and Kashiwada said he thought Kirito was perfect.
When asked about why light novels are so popular for anime adaptations, Kashiwada said it's not that light novels are more easy to adapt into anime than with manga where the visuals are mostly already there. In a light novel, you're reading prose, and people can have many different concepts of the visuals, but he also feels that it gives the staff a lot of freedom in creating an anime.
When asked if the two played MMORPGs to prepare for the series, Ito said he said he played a lot for the two months leading up to production of the anime, but he keeps being told that he has a long way to go. Kashiwada said if he really got into gaming then he wouldn't get any work done, so he does play games but he restrains himself.
When asked how the staff came to the decision to use LiSA's "crossing field" song for the opening, Kashiwada replied that Aniplex has a music division as well, and the staff knew about LiSA and the song before the anime came together, and Aniplex wanted to use it in one of its works. Kashiwada added that the opening sets the tone for the series, and the staff was very happy to use the song and combine it with Ito's direction.
When asked how they react to people who complain that the series is similar to .hack//SIGN, Ito said that he has heard that some fans think there are similarities, but he doesn't pay attention to that. He pretended the series did not exist when working on Sword Art Online.
When asked about the possibility of bringing over the Sword Art Online-inspired video games, Kashiwada said that if fans let their voices known, it will definitely be a possibility.
Everyone at the panel was given a raffle ticket, and at the end of the panel Aniplex raffled off the following prizes: an Asuna pillow case, an Asuna figure, a rare clear file that was signed by original light novel artist Reki Kawahara, and two posters signed by Kawahara, theme song singers Eir Aoi, and Luna Haruna, and Kashiwada and Ito (who signed the posters live at the panel).
---
discuss this in the forum (1 post)
|
this article has been modified since it was originally posted; see change history
back to Anime Boston 2013
Convention homepage / archives