Interest

Daily Cosplay

Gurren Lagann's Yoko

posted on by Gia Manry
Taken at New York Comic Con
---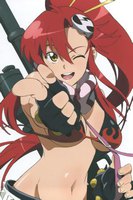 In the above photo, an unidentified cosplayer portrays Yoko, a lead character from Gainax's 2007 mecha telvision anime Gurren Lagann. In the series, Yoko is an expert sniper who helps keep her community of Ritona safe. However, she leaves the village in order to join Kamina and protagonist Simon in their quest to free humanity from the control of creatures known as Beastmen.
The photo was taken at New York Comic Con, which took place October 13 to 16 in New York City.
Photo © Alex Erde
To submit a Daily Cosplay photo, e-mail interest (at animenewsnetwork.com). Please include the name of the copyright owner (typically the photographer) of the image.
---
RightStuf - Anime, Manga and More