×
remind me tomorrow
remind me next week
never remind me
Subscribe to the ANN Newsletter • Wake up every Sunday to a curated list of ANN's most interesting posts of the week.
read more
2008 Australian Anime Roundup
by Jon Hayward,
Four of the Best new anime titles in 2008
When it came to December I sat down and started work on some "best of" articles, titles that I feel should get a final mention looking back on the previous year. Well that and I don't get much option to talk about what's fresh coming out of Japan. But when I sat down and looked at what I have managed to catch over the last year I realised that I hadn't finished many series and even what I did watch wasn't the massive hit titles. Hell there's only four titles that I would recommend in a end of year "Fresh out of Japan" review. So here it is, the top four titles released from Japan in 2008 in my opnion. Feel free to add to the discussion on the forums if you think that I'm crazy.

Another anime based on a series of novels, Toradora! is all about relationships. Boy loves girl, girl loves boy, boy and girl combine their talents to get the respective partners they actually want. It may sound confusing but this modern story on perception and relationships is funny, well written and above all, entertaining. Combine a excellent opening, engaging cast and animation and the package is complete.
Shounen anime by definiation is quite broad, but when a decent one appears that isn't from the pages of Shonen Jump and will not cost you your youth to watch, it's worth paying attention. Index is the story of a young girl that has the entire library of magical texts stored in her brain and the young teen who takes it upon himself to become her latest protector in a war between magic and technology. This anime is based on a series of light novels that isn't afraid to throw a spanner in the works that causes actual change to the characters. If there's one anime you should watch this year, make it Index.

A brash alien police officer who goes undercover as a Japanese idol and the young teenager that shares her body. Together they fight crime! When Tsutomu Senkawa killed when he is caught in the crossfire between agent Birdy and the alien criminal she is pursuing. But thanks to superior alien technology he is able to co-exist in Birdy's body which can change into his normal appearance. However there's no time to lie down and wait for the body to be fixed, he has to let Birdy take charge so that the earth can be protected from an ancient evil and help her solve the case. Based on the works of Masami Yuki (there has been two manga series and a previous anime adaptation), Tetsuwan Birdy: Decode is a fantastic update that I hope will find western release soon.
Are you familiar with the idea of mashups? Combining two things to make one thing, the White Album and the black album make the grey album, many AMV's, Daft Punk's latest album. Now imagine fantasy author Terry Pratchett creating a shonen anime. That is what Atsushi Ōkubo has managed to do for Square Enix with Soul Eater. The talent of Bones studio and the work of conceptual designer Shinji Aramaki has brought this manga to life with exceptional results. The series concerns itself with the development of three student teams of Death God Weapon Meisters and their partners / weapons. Their aim is to develop Death's next weapon for collecting souls. Young Maka is a almost perfect pair with a scythe named Soul, a cultured hungry young man out to make sure he's the best of the best. But someone is going around trying to resurrect an ancient evil and it's the class' task to stop him otherwise the world will drop into madness. Yet again it's on this list, which means it's entertaining, well written, fantastic animation and funny as all hell - Plus some of the best ideas concerning death since Bleach!
Best five titles distributed in Australia
Now I've worked through some of the best Japan offered us for the year, but what about the stuff you can walk down to your local store and buy? Here's some of the best titles you can grab (in my opinion) from 2008
The classic anime that was screened on Australian TV in 1986 on the ABC and introduced a generation of Australians to anime is now on DVD. We here at ANN|AU haven't picked up the DVD release yet, but the fact that you can go out there and purchase this small piece of Australian anime history gets Mysterious Cities of Gold onto this list.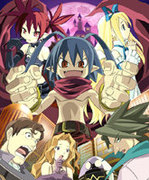 The anime adaptation of this fantastic game made it out here courtesy of Madman in May. Considering you can grab the whole lot for under PRICE which means TIME hours of Larhal Lunacy, Etna Evil and Prinny Pleasure, how can you say no? Plot is basically son of an evil overlord is woken up and told that his father is dead, and he has to fight his way through his dimension in order to take the crown. Thrown in a duplicitous second in command, her legion of souls seeking redemption in the body of penguins and the angel that has fallen from heaven and you have wickedly funny show. It's even better if you've played the games.
Kimihiro Watanuki sees dead people. That's a cold hard fact and the same one we opened our review with earlier this year. But now that multiple volumes are available I can say that the plot does make it worth your while. While the series does tend to follow a closed episodic format, in typical clamp style the payoff you receive for watching any one of their series through is fantastic. So please, give the adventures of Yuko, Watanuki and his friends a good run. This series is deserving of being one of the best of 2008.

Madman brought "The Girl Who Leapt Through Time" to our cinemas this year, a small tale about a school girl who suddenly gains the ability to "leap" backwards in time by literally taking a massive jump. What she does with it is amusing until she realises that knowing the future can have consequences for other people. I've already written other pieces gushing over this movie, so make sure you pick it up on DVD next year.
The remake of Gainax's classic anime series, Hideako Anno comes forward with a remake of the first six episodes of Neon Genesis Evangelion starting with Shinji returning to Tokyo-3 at the request of his Father, Gendo Ikari. He's then thrown into battle in the giant Evangelion unit against rampaging angels assaulting Nerv headquarters. One might argue that after seeing the original series this is kind of pointless, but the smooth streamlined "big budget" vision is awesome to watch with a lot of fun spins on some of the designs especially the visualisation of Angel Ramiel.

This Shonen Jump series is excellent, concerning the battle of logic between Light Yagami and the detective L over the death god Ryuk's notebook. Not just any notebook, this allows anyone that writes a person's name in it to cause them to die, and Light believes he can bring about a new age. What's better is that this year we not only received the series on DVD thanks to Madman but also on ABC2. And the anime is not just a panel for panel conversion, making it a must watch in its own right, even for people who have consumed the series in its manga format.
Ed's Note: I know it's the end of the month, but we thought you might enjoy this one. so in short, sorry for it being late ^_^;
Disgaea © 2003
NIPPON ICHI SOFTWARE
INC./DARK ASSEMBLY
Birdy the Mighty: Decode © YUUKI Masami •
Shogakukan
/ PROJECT BIRDY
The Girl Who Leapt Through Time © TokiKake Film Partners Death Note ©Tsugumi Oba,
Takeshi Obata
/
Shueisha
©DNDP,
VAP
, Shueisha,
Madhouse
---
discuss this in the forum (2 posts)
|