×
remind me tomorrow
remind me next week
never remind me
Subscribe to the ANN Newsletter • Wake up every Sunday to a curated list of ANN's most interesting posts of the week.
read more
How to Get Into Captain Harlock
by Dawn H.,

With Seven Seas announcing that they'll finally be releasing one of Leiji Matsumoto's most iconic manga titles in English, and Discotek Media releasing more Harlock-related anime this year, you might have grown curious about Matsumoto's beloved Space Pirate, Captain Harlock. While Harlock has been around since the late 70s, some fans first met him in his cameo in Rintaro's Galaxy Express 999 film--but Captain Harlock's legacy is so much more than that. Part Space Ship Captain, part Pirate Captain, and part Cowboy, Harlock is as integral a part in Leiji Matsumoto's universe of fantastical, romantic science fiction as the Galaxy Express 999 itself.

Like many iconic older characters, Harlock has not only been the star of numerous titles, but has also been varying depictions of himself: with different backstories, continuities, and even slightly different character designs. So to a newcomer, it might feel a little intimidating trying to tackle any of his stories. Which ones came first? And are any of the Captain Harlock stories connected? Fear not: I've composed basic guide to help you get started as you navigate Harlock through the ages!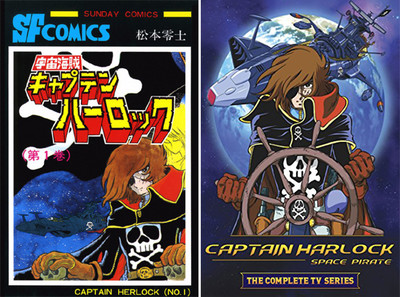 Space Pirate Captain Harlock
Leiji Matsumoto released his original Captain Harlock manga, Space Pirate Captain Harlock, in 1977. Taking place in the year 2977, the people of Earth have slowly succumbed to complacency & sloth, and can't seem to find it in themselves to resist against the alien invaders called the Mazone. Determined not to see the Earth perish, Captain Harlock and his crew decide to take matters into their own hands. The TV series is often episodic, with Harlock not always being the star & quite often having the stories centered around the colorful crew aboard his ship, the Arcadia. Still, Harlock looms large at all times as a symbol of freedom and carving your own path in the face of corruption. The 1978 TV anime adaptation of the manga shares the same name, and ran for 42 episodes. For those who insist on starting at the very beginning, it is considered a classic for a reason! Discotek Media released the TV series in one box set, and as of this writing the series is also currently free to watch on Crunchyroll in North America. Seven Seas will be releasing the original manga in English in 2018!

Arcadia of My Youth
Released in 1982, this film's continuity differs from that of the TV series & original manga, portraying Harlock as a former Military Officer and--due to some licensing issues-- also sports a brand new design for the Arcadia. The film features our first look at this incarnation of Harlock's family history and how he came to know his best friend, Tochiro Oyama, who also built his ship the Arcadia. Considered a classic of anime cinema, it's lovingly animated and embodies all the things that made space opera anime of that era so good. If the thought of watching a 42 episode anime about Harlock seems daunting to you, Arcadia of My Youth is an excellent place to start to see if you'd be interested in watching more of Harlock's adventures. While this movie had previously been released several times in America over the years (in both edited-for-kids and unedited forms), it had been out of print for a long stretch of time before Discotek Media recently re-released it in a much higher quality DVD & blu-ray.

Captain Harlock Endless Orbit SSX
Also released in 1982, a 22 episode TV series that's a direct sequel to the Arcadia of My Youth film. In this series, Harlock once again is fighting against Illumidas, while searching for the legendary planet Arcadia: a utopia where all humans can live free. For the most part, this series is noticeably lighter in tone than the movie it's tied to, and Tochiro is actually present throughout the show as a regular character. Originally this series had been slated for over 40 episodes, but the series got low ratings due to the Gundam craze really starting to hit it big, so it was sadly cut shorter. This show hadn't been released in America previously, but thanks to Discotek, we'll be getting the whole series on DVD in late July 2017.

Harlock Saga
In 1998, Matsumoto started a new Harlock manga called Harlock Saga: Der Ring des Nibelungen. Based on the the Wagner Opera "Das Rheingold", the series is yet another different Harlock universe with characters re-written slightly to fit archtypes from the opera's original story. In this timeline, Harlock & his crew must stop a race of gods from using an all-powerful golden ring to reshape the universe. This series really emphasizes the "opera" part of "space opera" more than previous Harlock stories, going heavy on the dramatic dialog rather than space battles…So if you're more into the action & adventure aspect of Harlock, you're not going to miss out if you skip this one. A 6-part OAV series was made based off of the manga, though the manga has been on "hiatus" since 1999. While the anime version was brought to North America in the early 00s by U.S. Manga Corps, it's since gone out of print & as of this writing is getting increasingly harder to find.

Gun Frontier
Based on a 2-volume manga Matsumoto did before Space Pirate Captain Harlock, Gun Frontier was made into a 13 episode TV anime 2002. This is a much more comedic, Wild West adventure take on Harlock. The series also changes things up with Harlock & Tochiro's friendship, making Harlock the sidekick and his best friend Toichiro the hero. The two take on typical old west problems like bandits & corrupt sheriffs while searching for a lost group of Japanese immigrants. If you were a fan of the cowboy vigilante role that Harlock played in part of his cameo in Galaxy Express 999, then it'll be easy to see him as a full-fledged gunslinger. Discotek recently released the entire series on DVD.

Space Pirate Captain Herlock: The Endless Odyssey
In 2003, this 13-part OAV series takes place after the original Space Pirate Captain Harlock TV series. Released as "Herlock" rather than Harlock, the series chronicles "Herlock" traveling across space to regroup the members of his old crew back together, as they've been separated and scattered after the end of the original story. This time, they're fighting against a new race of aliens called the Noo, who use fear to try to control others. This was released in America by Geneon back when anime was still being released in single DVDs, but as of this writing has also gone out of print. And because this was released back in the days of releasing single DVDs, this makes it even trickier to watch the entire series unless you can find them all.

Harlock: Space Pirate
In 2013, Toei released this CG-animated film directed by anime veteran Shinji Aramaki. Yet another version of the Harlock story, reframing Harlock as not just a notorious Space Pirate, but one that is an actual legendary figure. Using a lot of elements from previous Harlock stories, it again focuses mostly on other characters, while Harlock spends much of the film watching over his crew from the shadows--quite literally, as Aramaki really plays up the brooding pirate side of Harlock visually. But while stylistically it may look dark & edgy, the story still portrays Harlock as someone who stands for freedom and hope. While many fans didn't take to the film, it does a good job at introducing potential new fans to the concept of the space pirate captain, and the idea that this is only one version of his story. The movie is up on Netflix in the US, but the version streaming there sadly altered most of the character names (both in the dub and the subtitled version). Ketchup Entertainment released the film on bluray and DVD in North America, but only in limited numbers so it's already technically out of print.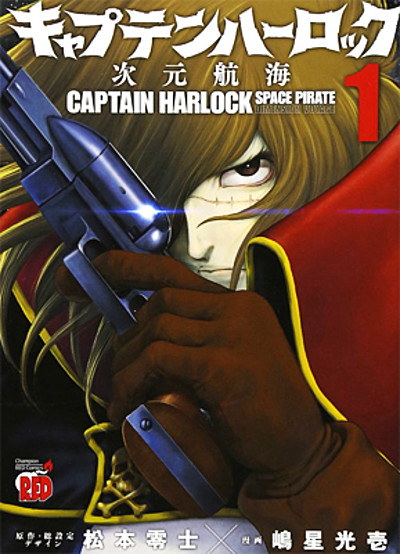 Captain Harlock: Dimensional Voyage
A manga that started in 2014 to celebrate the 60th anniversary of Leiji Matsumoto's manga debut, this is….you guessed it: Yet another retelling of Harlock's original Space Pirate Captain Harlock story! Written by Matsumoto himself, the manga boasts significant new changes to the original story and is drawn by Kōichi Shimahoshi, who was brought on to give characters their signature Matsumoto style with a more modern look. Another manga Seven Seas will be releasing in America, coming October 2017!


And there you have it! Harlock occasionally makes cameos in other Leiji Matsumoto series, so once you've familiarized yourself with one or more of these titles, you'll get a lot more out of his appearances in things like Galaxy Express 999 (or when he's referenced in parodies like Project A-ko!). The great thing about Harlock is that there's so many variations of him and his story, the chances are high that if one series isn't to your liking, another one might be.
What version of Harlock is your favorite? Sound off in the forums!
---
discuss this in the forum (12 posts)
|