Interest

ClariS, Kalafina to Sing 3rd Madoka Magica Film's Theme Songs

posted on by Sarah Nelkin
Musical units performed themes for previous films, TV series
---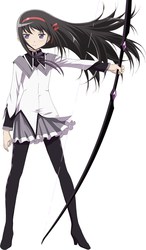 The Oricon Style website is reporting that the teenaged female duo ClariS and the Japanese pop trio Kalafina will be singing the theme songs for the Gekijō-ban Mahō Shōjo Madoka Magica [Shinpen]: Hangyaku no Monogatari (Puella Magi Madoka Magica New Feature: Rebellion) film.
ClariS has performed theme songs for Puella Magi Madoka Magica, Oreimo, Nisemonogatari, and Moyashimon Returns. The pair's first album debuted at #2 on Oricon's weekly CD album sales chart this April. The duo will release "Wake Up" on their fifth single CD, which will ship in Japan on August 15.
Kalafina's Wakana, Keiko, and Hikaru debuted in 2008 with "oblivious," the first of seven ending theme songs for the Kara no Kyōkai - the Garden of sinners anime films. Yuki Kajiura, a veteran composer of such anime as Noir, .hack//SIGN, and Tsubasa Chronicle, put together the Kalafina group and writes the music. Since 2008, Kalafina have performed theme songs for several other anime, including Black Butler, Puella Magi Madoka Magica, and Fate/Zero.
The film is the third Puella Magi Madoka Magica film. Advance tickets will go on sale in theaters on Saturday, and buyers can get the first batch of tickets with a card and an exclusive clear file folder.
The film is scheduled to open in Japanese theaters this fall.
Source: Oricon Style
---